Google Hacks – Perform Advanced Google Search From Your Desktop
We all know that Google has unquestionably the largest index of web pages and supports advanced search parameters. If you want to search for books, music, torrent, application, etc, then each one of them will have a separate parameter. In some cases parameters can be quite long. Instead of keeping a list of Google parameters near your desk, you can now use Google Hacks.
It is a free cross-platform desktop tool that allows common users to perform advanced search in Google with a click of a button. With this tool you can search for Music, Applications, Hacks, Books, Proxy, Torrent, Videos, Lyrics, Cache Pages, Tools, Fonts, and Web Hosting.
Just enter the search string, select what you are looking for, choose the file types, and hit Search.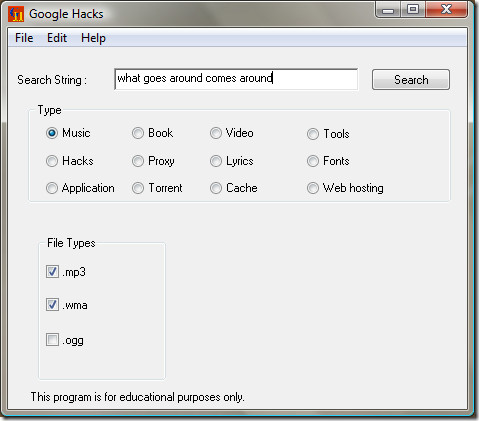 This will open a new Google search window in your default browser and take you straight towards the result. The results in my testing came out to be pretty accurate.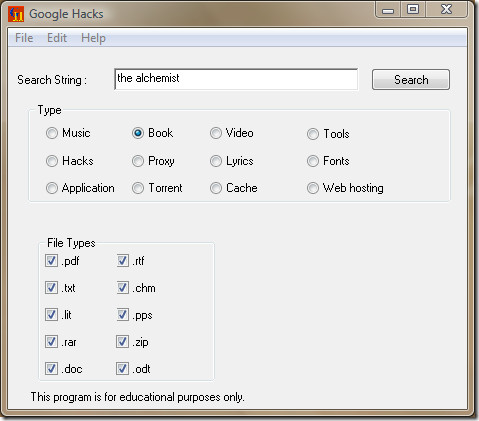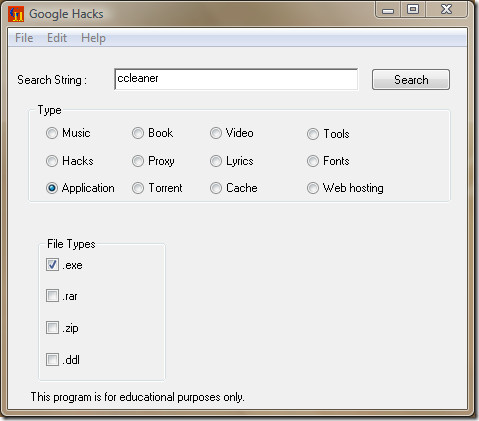 This tool is for advanced users only, beginners might need to understand what Google parameters are and how they work before using it. This small light-weight tool can come useful in case you want to search for something which normal Google results fail to deliver.
It works on Windows, Mac, and Linux. According to the developer, this tool has been developed for educational purpose only and not for illegal usage. Enjoy!