InType: Advanced Text & Programming Editor With Built-In Code Sample Library
We have previously covered a lot of text editors like Editra, a cross platform text editor, EditPad, a customizable tabbed text editor, and medit, a configurable programming text editor with multiple panes. Today, we bring to your another text editor, Intype, that allows you to perform advanced text editing. It includes a host of sample code modules of several programming languages including HTML, CSS, C, C++, Java, Perl, PHP, Python, SQL, XHTML and more. Using these sample code structures, you can easily start working on your application development projects, as you won't have to define and set the structure of the document. Moreover, it comes with a theme library and language grammars, project manager to quickly access finished work and work in progress. More about Intype after the break.
The application has File, Edit, Search, Project, View, Text and Bundles menus at the top, while the left side bar holds current and previous projects. The application has MDI-based user interface that provides a convenient environment for handling multiple documents. Underneath the main window, you have an output console that shows the programming language specific errors and exceptions.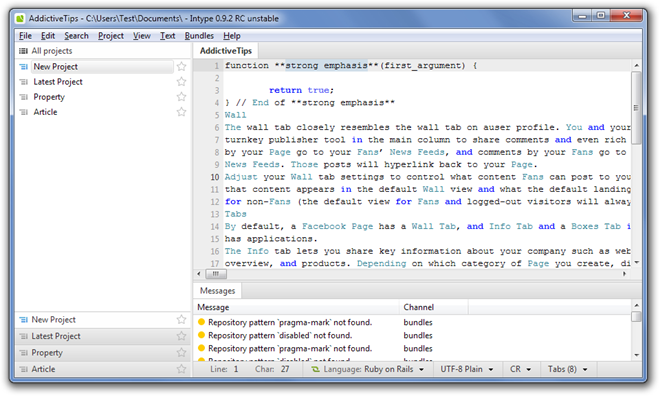 Under Text menu, the application has several built-in text editing options to quickly change the style of text, such as Lowercase, Uppercase, Capitalize, Hyphenize, Underscore, Upper CamelCase, Split etc. You can move selected lines up/down, and highlight duplicate lines in the document.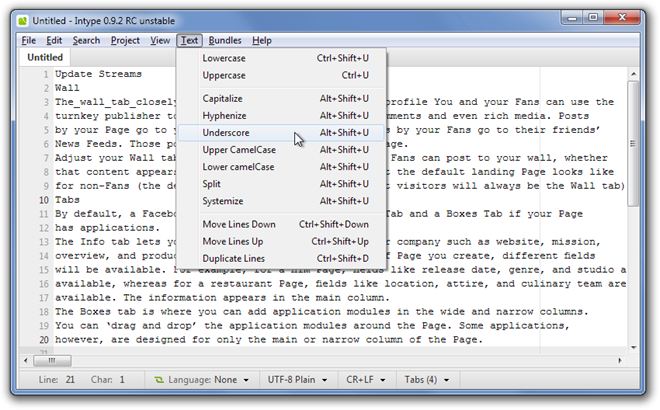 Intype has its own project manager to help you keep all those codes and documents neatly organized. Click View menu and select Toggle Sidebar to enable the Project Pane.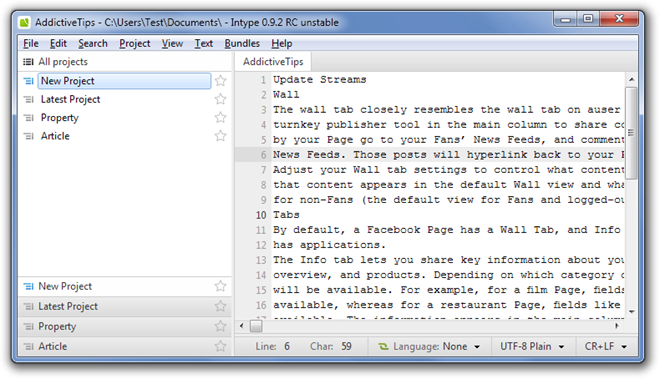 The application hosts an extensive search function, which can be accessed from Search menu at the top. It's capable of searching words or phrases in current document as well as replacing words or phrases in current documents. If you don't want to replace a word in the whole document, Intype allows you to Find & Replace words and phrases in just a selected part of the documents.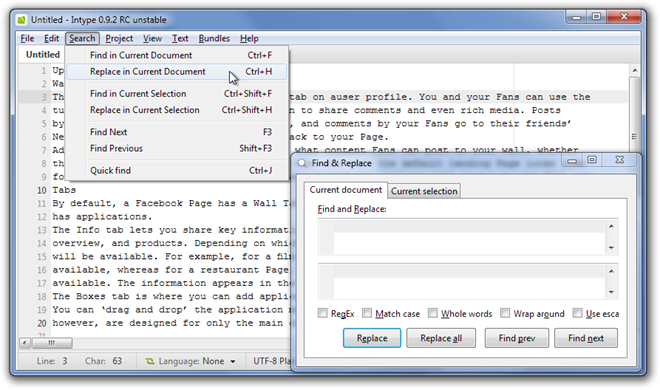 The application supports multiple programming languages, and includes code samples for several language such as CSS, Groovy, HTML, Java, Perl, Python, Rails, Ruby, textile, XHTML, YAML etc. The bundles includes a sample code library, which saves you effort involved in writing a code structure. For instance, if you want to include/declare a Class in Java document, navigate to Java from Bundles menu, and hit Class, it will immediately write the code structure of Class declaration. Similarlty, you can include CSS classes in stylesheet document, head, body, meta, title and other tags in HTML and markup documents, PHP script modules in PHP file and so on.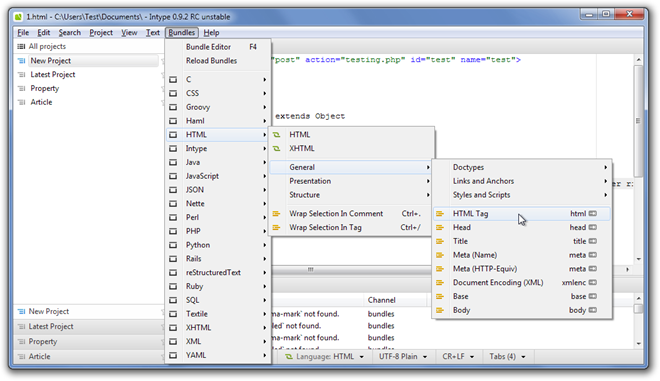 Intype is a portable application that works on Windows XP, Windows Vista and Windows 7.