Air Stream Media Player – Stream Videos & Photos From iOS Devices To Windows PC via AirPlay
If you have an iPhone, iPad or iPod Touch running iOS 4.2 later, you should know you don't need to buy an AirPlay receiver device to make use of the integrated AirPlay feature. While there are already a couple of solutions for Mac (such as AirPlayer and AirServer), users with Windows-powered computers needn't despair either. Like (previously covered) Shareport4w for Windows, Air Stream Media Player streams media from from your iOS device to your Windows PC over a shared WiFi network. But while the former only streams music, Air Stream only streams videos (this includes YouTube videos) and photos. What's the point? No wires and no waiting for your device to sync – that's what. The next time your friend visits you with his iPhone after a hiking trip, you needn't plug it in, login with his Apple ID and wait for it to sync just to view a couple of pictures and a few minutes of recorded video.
Setting up Air Stream is extremely easy. Simply download the ZIP archive (link provided at the end), unzip it and run AirStreamPlayer.exe. Once that is done, you should see the AirPlay icon appear beside the share and delete buttons within Photos and beside player controls within your device's Video and YouTube applications. Tap it and select your computer from the list of devices that appears. Remember, your computer and iOS device must be connected to the same WiFi network.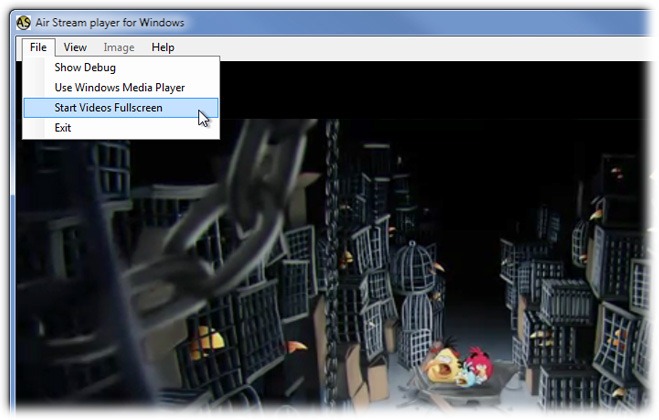 By default, Air Stream uses Quicktime to play videos. If you don't have Quicktime installed, it'll automatically switch to Windows Media Player. The success of video playback in said case will depend upon the video codecs installed on your computer. Even if your system does have Quicktime installed, you can manually switch to Windows Media Player and back from File > Use Windows media Player.
You may even set the application to switch to fullscreen as soon as a video begins to stream.
YouTube streaming did not seem to work with our iPad 2 (running iOS 4.3.3) while Air Stream was configured to use Quicktime for video playback. Switching to Windows Media Player seemed to solve the problem. As stated by the developer, the application is yet to be updated with respect to whatever changes may have been made to in-app air streaming in iOS 4.3 and later. This may be the cause of said problem. Streaming Videos stored on your device, however, seems to work flawlessly with both Quicktime and Windows Media Player.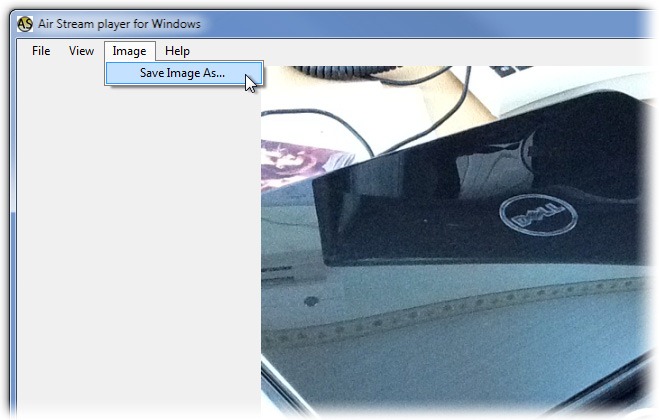 While streaming photos (or a slideshow) from your device, you can save individual photos to your computer from Image > Save Image As. Pretty handy, indeed.
Air Stream Media Player requires .NET framework v3.5 or above and Bonjour to be installed on your system. It is also recommended that you install Quicktime (if you don't already have it) to avoid issues in video playback.
Download Air Stream Media Player