AnyMenu: Open Frequently Used Files & Programs via Middle Mouse Button
Shortcuts placed on your desktop allow you to have an easy and quick access to the frequently used applications, files and folders. Right now, when you have to open a program, for instance Skype, you just click either its desktop icon, or taskbar shortcut, depending on where you have placed it. Now, imagine if, instead of just clicking the shortcut, you had to open up the Windows Explorer and locate the Skype installation folder inside the Program Files directory and run the application from there. A lack of shortcuts would have taken a lot of time to perform simple tasks. However, like me, a lot of people like to keep their desktop as clean as possible. Shortcut Managers are a decent solution to this problem. They allow you to have both have shortcuts and keep your desktop clean at the same time. Today, we have a simple, portable application, called AnyMenu, which lets you have a custom shortcut menu that can be brought up by clicking the middle mouse button. You can add custom shortcuts for files, folder and applications, and create submenus for organizing similar shortcuts together. When you run the program, the shortcut menu is automatically associated with the middle mouse button. You can click the middle mouse button anywhere on your keyboard to reveal the shortcuts included by default. There are already shortcuts for NotePad, Calculator and Paint applications , as well as folder shortcuts for C: Drive, My Documents and Start Menu.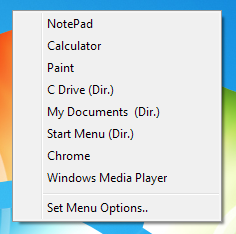 Clicking the Set Menu Options button opens up the configuration dialog box. You can create new shortcuts for files and folders, create new submenus, access Preferences and Backup/ Restore the menu items.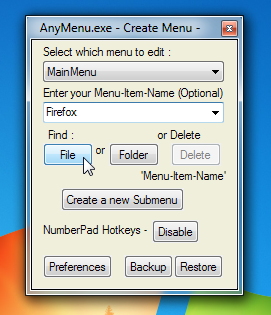 Submenus can be created to group all the similar shortcuts together into one category. To create a Submenu, enter its name and click Save. If you have already added a lot of icons in the menu, you can directly include them in the new submenu by clicking their titles from the provided list.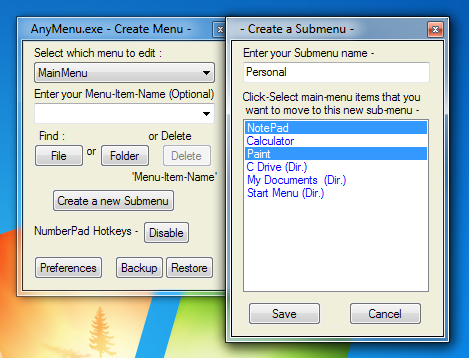 The submenus are added to the bottom part of the main menu, and all the selected items can be accessed by moving your mouse cursor over the submenu's name.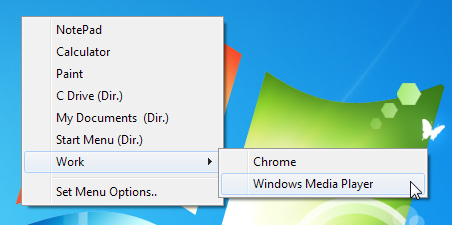 The Preferences window allows you to Enable/ Disable Caps lock Indicator, Disable Muted Tooltip, Include the program in startup, Set back mouse button to backspace, and change User Actions for Start Menu for Save Text etc.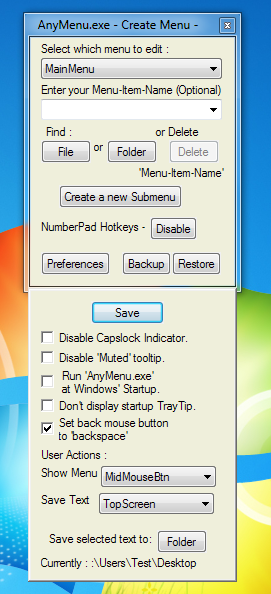 AnyMenu works on both 32-bit and 64-bit versions of Windows XP, Windows Vista, Windows 7 and Windows 8.