Automatically Mute Speakers On Lock [Windows]
If there is one hotkey I hit frequently in the workplace, that would be be Win+L to lock the computer. It is not surprising how important it is, every time a user gets up from the computer, locking the system is the first thing to do. Even though we should be praising the Windows team for this awesome little feature, I would rather do the opposite due to lack of options. Locking is a good practice but what if you want the sound to be muted automatically when the system is locked?
You don't want the music to continue blaring in the headset and don't want to disturb co-workers with notifications alert sound(if speakers are enabled). Muting the sound is something I have to manually do before locking the system and unmute the sound again later. This looks like a normal procedure at first glance but after a while, specially when you lock the computer multiple times a day, it becomes quite annoying.
Mute On Lock is a small system tray tool that will automatically mute the sound when the system is locked and unmute the sound again when logged in. It can also help in muting and unmuting the system sound quickly with a hotkey.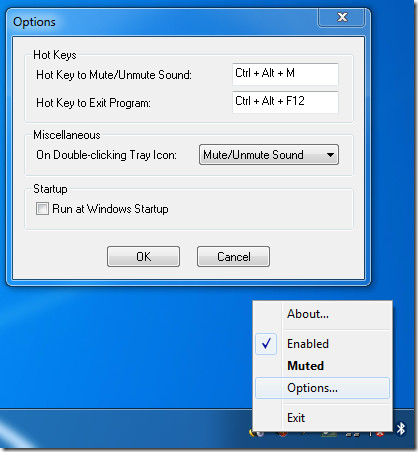 If you don't want the speakers to be muted on lock, simply click Enabled from the system tray context menu to disable it, clicking it again will enable the app again. You can select the hotkeys for both mute/unmute sound and exiting the program from Options. You can also choose what action to perform when the system tray icon is double-clicked; Mute/Unmute Sound, Enable/Disable Effect, or Show Options.
The app also comes with a portable version and works on Windows XP, Windows 2003 Server, Windows Vista, Windows 2008 Server, and Windows 7. Both 32-bit and 64-bit OS are supported.
Note: You must run the app in Windows XP compatibility mode when using in Windows 7. This is the only way it would work.