Batch Compress Images & Optimize Them For The Web
High resolution cameras are great and everything if you've got a set-up at home to take advantage of the photos you take with them. Phones today capture higher resolution images than most common monitors and laptop screens support and a high resolution photo always means a very large file taking up space on your hard drive. If you plan on using a photo on perhaps your blog, or a website, you will not only need to make the file smaller in size, you will need to make sure the quality isn't compromised. PIXresizer is a nifty application that lets you resize images as well as convert them into other formats, including PNG, JPEG, BMP, GIF and TIFF. You can work with single images, or use the batch mode to resize and convert images in bulk with ease. Resized images are saved as copies in a location of choice and can be set to retain EXIF data.
If you are a blogger or frequently post images on the internet, you probably know the importance of image resizing already. Most forums and some other image hosting services have their own limitations on the maximum dimension and file sizes for the images you upload on their servers. Moreover, bloggers and web developers have to keep image sizes in mind to deliver optimal page load times to their visitors. PIXresizer aims to serve the needs of all such users, thanks to its great interface, decent image format support and handy resizing options.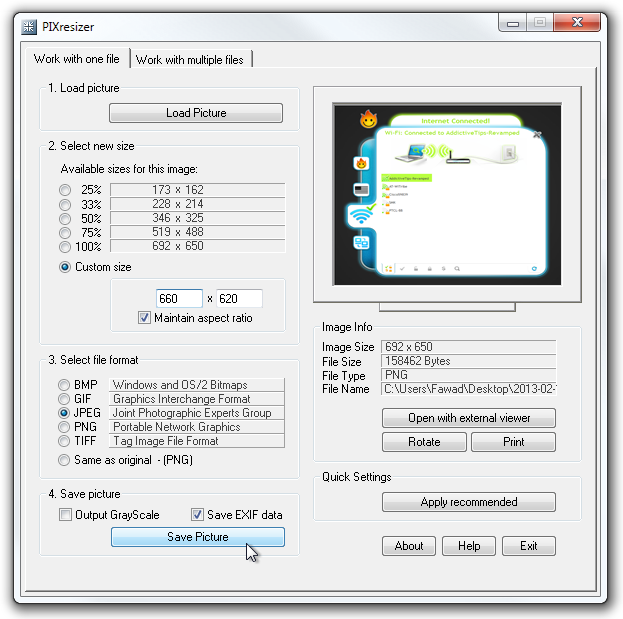 The interface of the app provides you with two different tabs for single image mode and batch mode for complete folders of images. The 'Work with one file' tab lets you load a picture, select a new size for it,  choose the output format and select a few other handy options such as GrayScale output or saving EXIF data if you want. Moreover, you can open the image in an external viewer, rotate it, or directly print it from the options available in the right pane. Once everything is set according to your liking, just click the Save Picture button and you're done!.
To resize multiple images in one go, switch over to the 'Work with multiple files' tab. Instead of selecting a single image, you'll have to select the source and destination folders, while everything else remains fairly similar with minor changes. However, the options to rotate the images, print them or open them images with an external editor aren't available in batch mode. If you are in a hurry, the application also offers a quick preset of suitable options that you can apply using the 'Apply recommended' button. Clicking 'Save Pictures' resizes, converts and saves all the pictures into the destination folder according to your settings.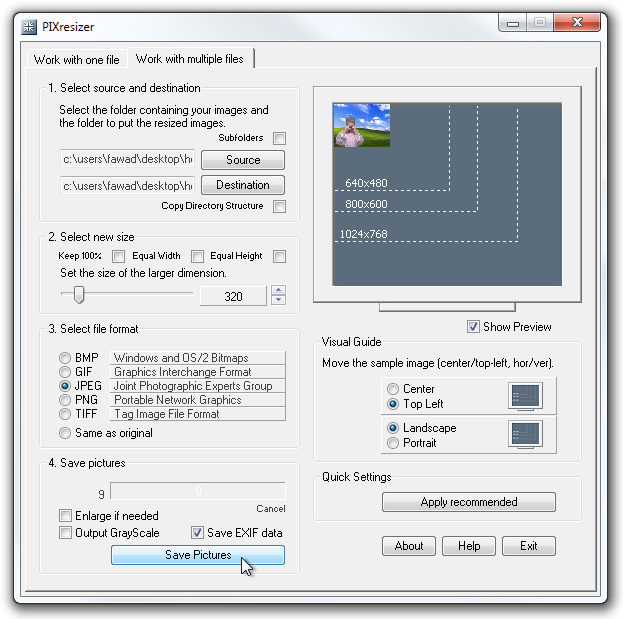 PIXresizer works on both 32-bit and 64-bit versions of Windows XP, Windows Vista, Windows 7 and Windows 8.