bcTester Lets You Read Barcodes & QR Codes In Windows
QR codes are barcodes readable by scanners, and smartphones that can contain different pieces of information. You can view QR codes mostly on websites containing reviews of Android Apps. Scanning the QR code with your Android device takes you directly to its Google Play page in your phone allowing you to easily download the application. A QR code, basically removes the requirement to manually type the name and search for the app in your smartphone. Previously, we have covered a lot of applications that allow you to generate linear and two dimensional barcodes and QR codes and let you export them as image files, such as QR Gen and BarCode Generator. Barcodes can contain any type of information from a URL to a text message. You can even even share Wi-Fi through barcodes and QR codes as explained here. Even though there is a lot of material for Windows regarding creation of barcodes and QR codes, there are a lot less tools for reading one. Today, we have found an application named bcTester that reads barcodes from images or PDF Files. It allows you to read both linear barcodes and the modern two dimensional QR codes.
bcTester has a very simple interface, with a toolbar containing different recognition modes at the top, while the added barcode image appears in the middle. To read a barcode, simply open the file containing the barcode by selecting Open from the File menu at the top. Once the image is loaded, select the type of recognition required for the image. For instance, if it's a QR code, select Quick Recognize QR Code button from the top bar. If you select the correct recognition type, a window will pop up with the encoded text.
Click Barcode at the top and select Settings to configure default options of the application, such as Rotation, Maximum Skew Angle etc. To configure advanced options about the QR code you want to create, click the Extended button available at the lower part.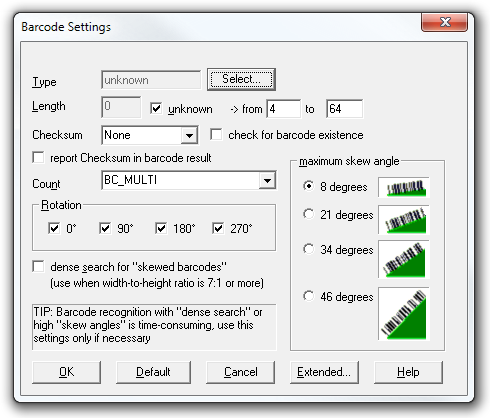 One of the major limitations of bcTester is its inability to automatically recognize which type of code is loaded in to the application. You have to manually select the correct type to decode the included information. We hope that the developer will include this feature in the next release. The application works on both 32-bit and 64-bit versions of Windows XP, Windows Vista, Windows 7 and Windows 8.