BuddyBackup: Backup Important Data To Your Friends' & Family's Computers
Backing up your files and folders is very important. You never know when your hard drive might crash or a virus might corrupt your files and folders. Moreover, anyone with malicious intentions can also delete your files if they get access to your computer. Whatever the case, if you have a backup of your files saved somewhere, it proves to be a life saver in such situations. Previously, we have covered some great applications to backup your data locally, remotely or on a cloud. Back in February, Usman covered Simple Data Backup, which offers an on-demand backup option to quickly perform backup operations, as well as scheduled backup tasks and post-backup options, while some days ago Waqas covered AngryFile, a Dropbox-like file sharing and backup utility that lets you store important files on the cloud. Today, we have another backup application called BuddyBackup that enables you to back up your data on your friends' and family's computers for free. This lets you avoid paying huge sums of money to third party companies for backing up your data. More on BuddyBackup after the jump.
BuddyBackup constantly monitors your files and whenever a file is changed, it takes a snapshot of the newer file version and only the changes are saved. Then the files are encrypted, which means that no one else can access your files or read their content. Once the encryption process is complete, BuddyBackup sends the files to your buddies over the internet. If no buddies are online, the application will keep track of the changes and send them to your buddies later.
During installation, you are asked to create a new account if you are not already registered with the BuddyBackup service. Enter your name, password and email address, and click Next.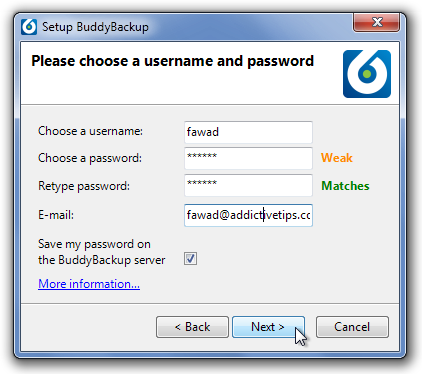 Now choose the folders and files that you want to backup and click Finish.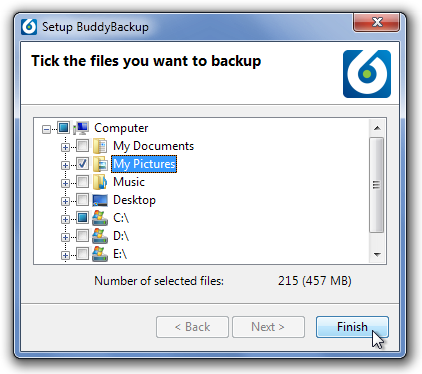 The application has 4 tabs, namely Home, Choose Backups, Backup Status and Restore. The Home tab provides you with information regarding files backed up, backup space used, shared space used and the folders that need to be backed up.
Select Options in front of the backed up folders to change folder-specific settings, such as which buddies to backup to and how many backup copies to make etc.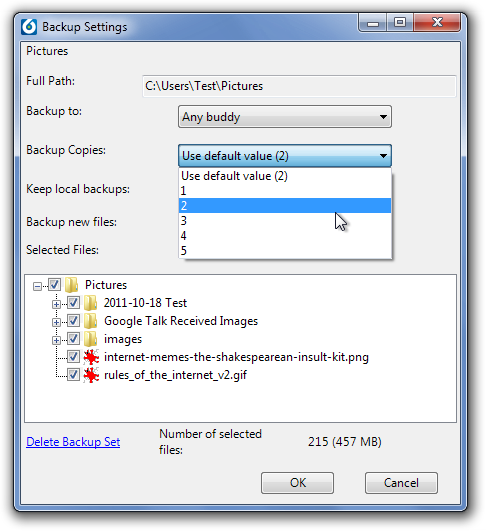 The Choose Backups tab lets you select the folders and files for backing up, while the Backup Status tab lets you see which files/ folders are in what state of backup. Red means the file/ folder has no backup, Green means the file/ folder has one backup, while Green with a Plus sign means that the file/ folder is backed up on more than one locations.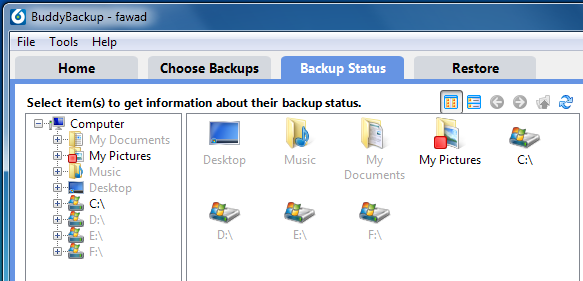 The complete usage of the application is explained on the product page. BuddyBackup works on both 32-bit and 64-bit versions of Windows XP, Windows Vista, Windows 7 and Windows 8.