SkyRemote Brings Remote Desktop Control & Sharing To Skype
One of the applications that have seen considerable rise in usage is obviously Skype. The Sweden based VoIP software was first launched back in 2003, and has since seen critical acclaim and has pretty much become the part and parcel of every PC. Since its inception, the developers have thrown in various enhancements and additional features to make the Skype even more robust, and you can also check our featured article, which states 10 top-notch features of Skype. Skype also supports various plugins with help in added functionality and user-friendliness. Browsing around the world wide web, we came across a handy Skype plugin and thought to share it with you guys. The plugin is called SkyRemote that automatically detects people from your Skype list with SkyRemote already installed, and lets you easily share your desktop with them (remote desktop), control theirs and record sessions to AVI files. It allows you to share your desktop with multiple people simultaneously while maintaining session quality. The plugin uses Skype features such as certification protocol, strong encryption and communication layer and connection management, allowing you to share your own desktop and control someone else's over a secure connection provided by Skype. It comes with a custom display mirror VGA compatible driver that boosts both local and remove desktop performance without replacing your old display driver. Keep reading for complete review.
After installing SkyRemote, you will have to launch the application separately after Skype starts. Allow access to the application in Skype by clicking Allow Access.

Once the application starts, it will automatically detect other people in your Skype friend list who have SkyRemote installed, and they will appear in the system tray menu. Right-click the application to view Status, Request Remote Desktop and Share Desktop.

Once you share your desktop or request remote assistance, your friends will receive a notification. The desired operation will start once the other person clicks Accept.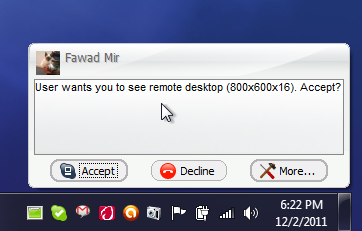 In case of desktop sharing, a window will pop-up on the receiver's desktop with your complete screen visible to him.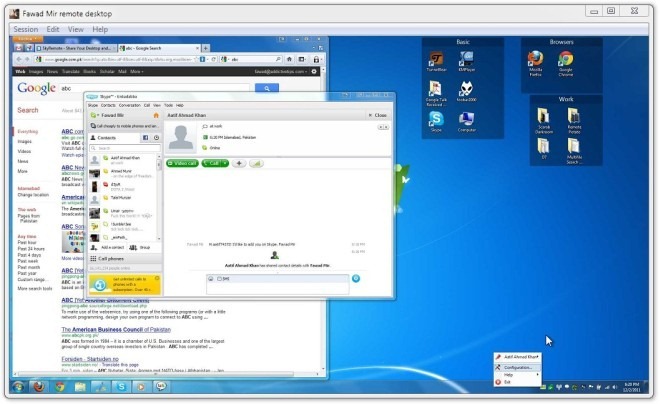 Right-click the system tray icon and select Configuration to access SkyRemote Configuration window. It allows you to specify settings related to Screen ( Picture, JPEG Compression), Plugin (Security, Effects, Notification Balloons) and AVI Settings (Picture, Video Compression, Output Path).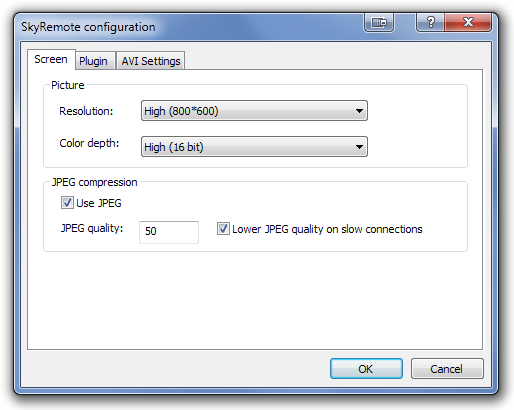 Even though there are other alternative solutions to do the very same task, if you're an avid Skype user, then SkyRemote is extremely useful. It is compatible with 3.0 and higher versions of Skype.