10 Features And Tools To Supercharge Your Skype Experience
When it comes to communicate and collaborate online with family and office team members, users generally don't look beyond Skype. Skype has certainly come a long way since its first release in 2003 as Sky Peer-to-Peer, aka, Skyper, and with its latest version – 5.0, it takes voice, video, and text communication to a whole new level, empowering both business and corporate communities with not only best communication and collaboration tools but also by providing a facility to connect and collaborate through mobile devices, without charging a single penny.
Looking at the simplicity it offers for users to make and receive calls, conduct online video conferences, group video calling, on personal PCs as well as mobile devices, it has truly broaden the communication horizon for both home and business users. That's why these two major actors are relying on Skype more than anything for communication, collaboration, and also for sharing files.

I've been been using Skype for a long time, and enjoying every bit of it; screen sharing, file transfer, conference calls, revamped dial pad, address book management, group video calling with super voice & video quality calibration options. This post is an attempt to make Skype as seamless as it can be. We will try to explore some of its most underrated yet useful features and also list some add-ons which can enhance the overall Skype usage.
Screen Sharing
Screen sharing is one feature of Skype which comes useful in many situations. Be it some computer related problem that you want to share with person in conversation, show procedural steps of some app, or even want to share video clip or a photo album with others without having to send them, just turn on the Screen Sharing mode in video call tool panel to let recipient view all the active application windows on your screen. Skype lets you decide which attached display monitor screen you want to share with others.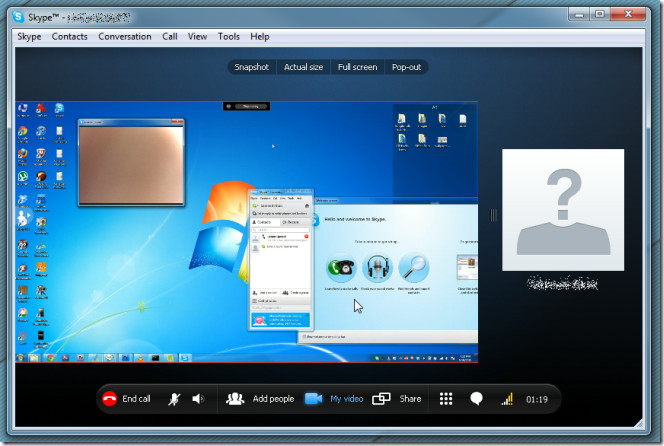 Call Quality Identifier
Before starting a highly formal conversation or joining a video conference, it's recommended to check whether all the voice and video calling elements, including, microphone, speakers, video options, webcam and importantly computer and network speed settings are correctly configured or not. Since it often happens that people in conversation get scrambled video with bad audio quality due to incorrectly configured microphone and webcam with low network usage threshold, bring up Call quality information dialog box and review all the settings of attached peripherals along with computer and network speed.

Facebook Integration
Skype revitalizes its overall usage with Facebook integration. It not only allows user to view their wall updates, news feeds, and update their wall status but the phonebook integration brings direct calling to your Facebook friends on their landlines and mobiles. The revamped Skype UI brings a dashboard, letting you share Skype mood messages with your contacts and view your Facebook wall updates. The MDI based interface enables swift switching between your Skype dashboard and integrated Facebook app.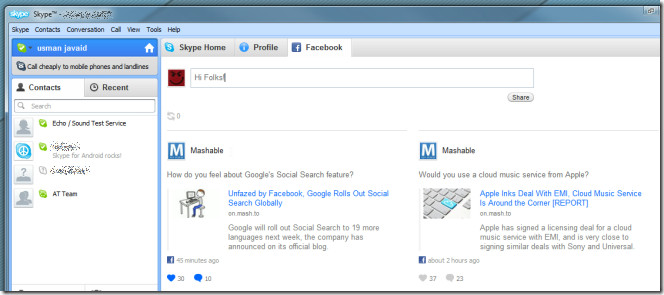 Unlike other apps which integrates Facebook API but keep it in complete isolation, Skype weaves in with Facebook completely. You can instantly initiate a conversation if your friend is a Skype connection. Even if your Facebook friend is not a Skype connection, but you both are online on Facebook, Skype then allows making a free call and adding your Facebook friend in Skype contact list.
Add Video To Your Mood
The little nifty mood set feature in Skype is really cool. It allows adding a customized message to reflect you current mode. You can tweak with this feature in many ways. You can paste self-designed mood text in the defined mood text box, use special characters, font size, blink effect, etc, but the best way of setting mood message is by selecting video from either Dailymotion or Metacafe. Skype also integrates Metacafe and Dailymotion video sharing websites, letting you pick your favorite video and set it as your Skype mood message.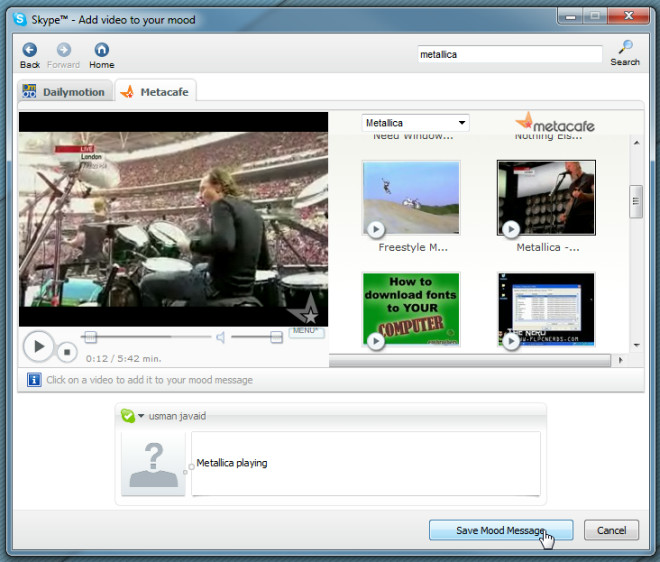 Play Games With Your Online Skype Contacts
Advance Skype users can find thousands of third-party add-ons which are supported by Skype official community. These add-ons can greatly increase your overall productivity. One category which is popular more than any other category is Games. Skype lets you play numerous games online with your online Skype contacts. The process is simple. You just have to select a game from the list, download it, specify name of contact with whom you want to play it. Once request is accepted, it will start loading the game in multiplayer environment.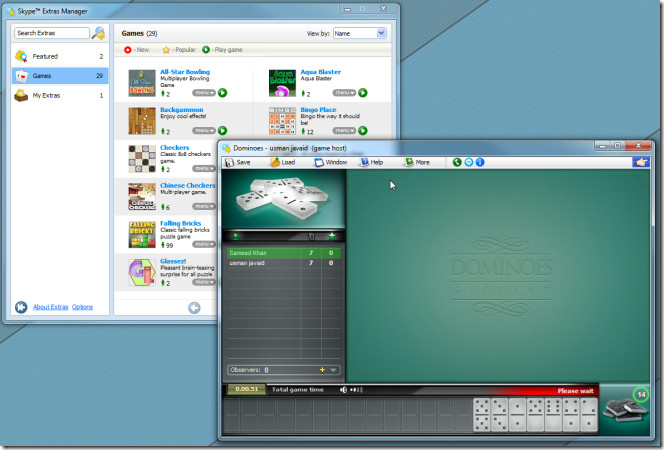 Accept Skype Incoming Calls For Specific Callers Only
Looking for an alternative for Skype auto-receive calls option that can enable you to create an auto answer list? Skype Auto Answer provides you with just that. It's a tool developed specifically to create a customizable auto answer list, so that Skype can auto receive calls from specific callers only. Since the native auto-receive calls can become bothersome at times, it confines the auto-receive callers list to only selected contacts, making the auto-receive call option completely controllable.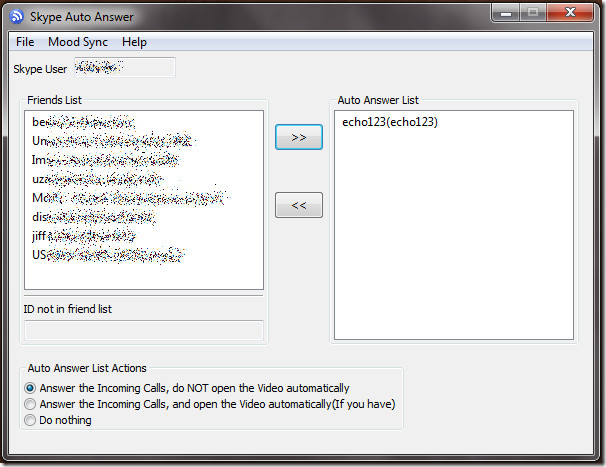 It also lets you specify Auto Answer List Actions. You can either select open video automatically after answering the calls or simply auto-receive the call with video option from the bottom of the window. Check out the complete review here.
Launch Multiple Instances of Skype
Do you hold multiple Skype accounts – one for business or office purposes while other for personal use and want to sign in to both accounts at the same time? CalimSkypeLauncher is a free tool which does nothing except launching multiple Skype instances, so you can concurrently sign in to multiple Skype accounts without having to use any third party web app or IM with Skype integration. Just launch the application, enter details for each Skype account, and click Launch to sign in to selected Skype account. Repeat the procure after selecting another account from the list to launch another instance of Skype. Check out the complete review here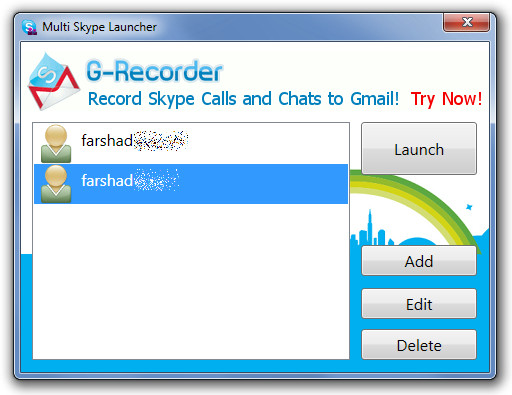 Record Skype Video & Voice Calls
If you are following some long winded process to record Skype video calls and badly need a seamless Skype video recorder that can record, pause, and stop video recording with a click, have a look at Vodburner – a tool to record video calls from system notification area.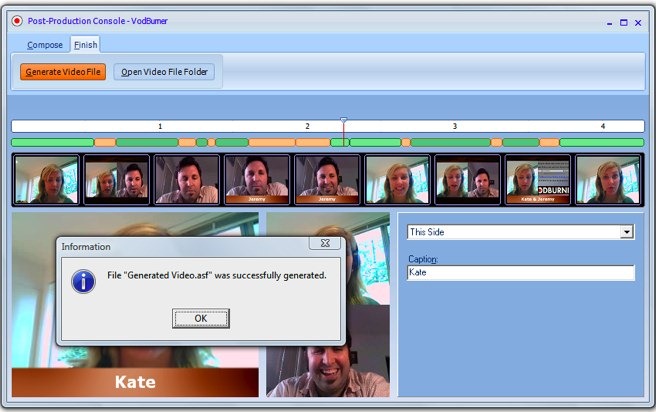 After installation, it will integrate with Skype and sit in system tray, letting you start video call recording. The configuration console present over the notification area allows you to control different aspects of video recording. The video file can either be saved in ASF or WMV format. You can read the full review here.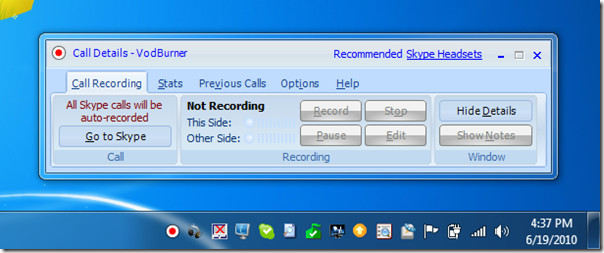 Just like Vodburner for recording video calls, we recommend CallGraph Skype Recorder to capture voice calls. Using the same recording pattern, it sits in system tray with small voice recording controller floating over notification area to start, pause and stop voice call recording. Check out more details here.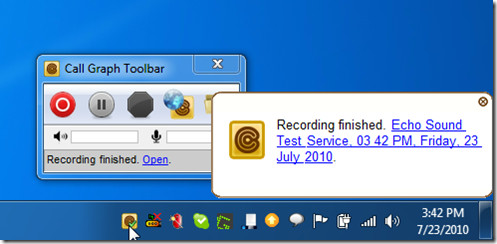 Create Auto-Reply For Each Skype Contact
Want to incorporate an automated auto-reply feature in Skype to send customized message to each caller waiting for your response? VoiceGear Contact Alerter is probably the best tool for this very purpose. Apart from allowing you to add customized message for each Skype contact, it brings a handful of notification features as well. You can separately associate a notification for each contact and create a auto-reply conversation. Check out complete details here.
Review Call Statistics And voicemail log, Also get voice notification
It becomes necessary at times to get notifications whenever anyone from your contact list changes the personal status. Since it's practically impossible to keep a track of online and busy contacts all the time, you can use Maxa Notifier for Skype as a status tracker. It is primarily written to send audible notifications when a contact from your list changes his/her status. Aditonally, it also saves call statistics and shows voicemail log, so you can review the call details separately, and view, listen to, and delete voicemail from the list. Maxa Notifier is highly configurable. You can set the alerts for all the possible occasions, like, when status becomes, Available, Busy, Do Not Disturb, etc. Check out full review here.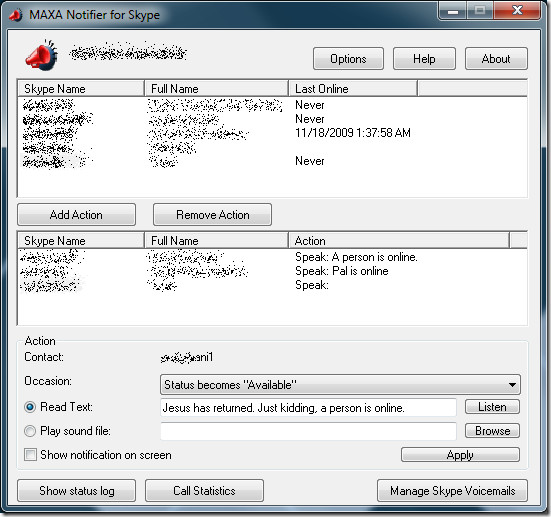 ---
Unlike many other communication suites and VoIP services which are based on server-client system, Skype uses P2P system which not only makes it fast but easier to configure as well. We've tried to reveal some of its nice features and tools and might have missed out on many useful and hidden options. If you use a special script, feature, or a third party tool to enhance Skype voice, text, and video communication, don't forget to share it with us in comments.