Manage Shared Folders And Permissions In Network
Sharing folders has become easier in Windows but most users need a simple utility to manage shared folders and permissions. Easy Folder Share is a small utility which facilitates users who are bit reluctant in sharing folder the orthodox way. Despite being a folder sharing tool, it also lets you manage the permissions easily so that you can edit, remove, and add different users.
To begin, specify the folder path which you want to share, it will automatically populate the Share Name field with the name of the folder. You can also add Share Description to describe any information along. Under Permissions, fill-in required fields such as; Alias, Name (with domain), and permissions (Read and Write). Once required information is entered, click Share.
You can add as many folders as you want. If you need to manage folders already being shared, specify the location and it will instantly populate all the relevant sharing info such as, Alias (if specified), Name (with domain) along with specified permissions.
Once you've shared desired folders, you will see two buttons on main interface stating Modify and Unshare which lets you easily modify any specific information and Unshare selected location, respectively. For managing contacts over network, click Manage. This will list down all the networks contacts and let you add, edit, and remove them any time.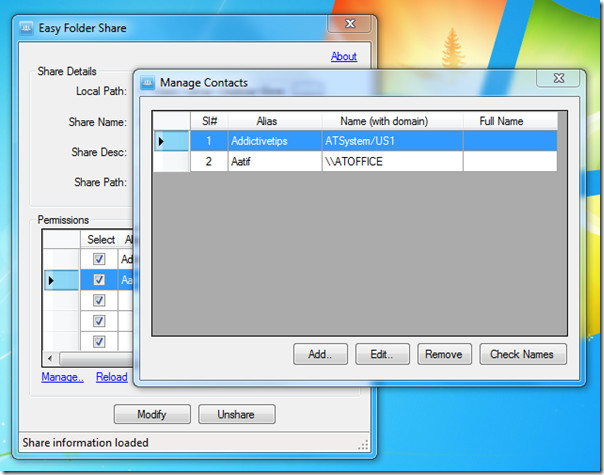 It runs on Windows XP, Windows Vista, and Windows 7. Our testing was done Windows 7 32-bit system.