HashIt Is Simple Application Integrity Checker
As internet is overwhelmed with tons of software, application, tools, etc. sometimes you might not be able to find which one is fabricated and which tool is straight from the developer. Developer mostly generate the Hash of the product, which is quite useful in finding out the integrity of the software. The two widely used hash functions are MD-5 and SHA-1 which are employed in the application for latter integrity check. To check the hash of downloaded application or purchased tool/software, Hash It comes in handy. It is a small nifty Context menu extension developed solely to check the Hash function (MD-5 and SHA-1).
Usage is simple as you can integrate it in right-click context menu, after application is installed, run the application and enable Add to context menu option, specify the application installer to generate corresponding Hash function.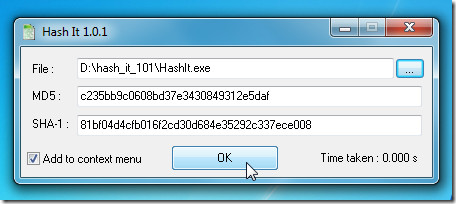 Now you wont need to run the application every time to check the Hash function. Right-click any application for which you need to check hash function and select Calculate Hash.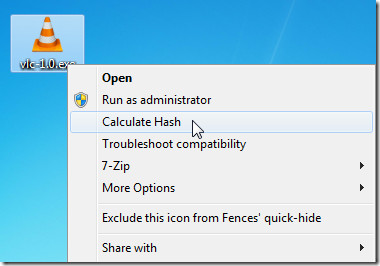 This will immediately calculate the Hash function. You can match the generated hash with the Hash values from the developer to check if it is altered.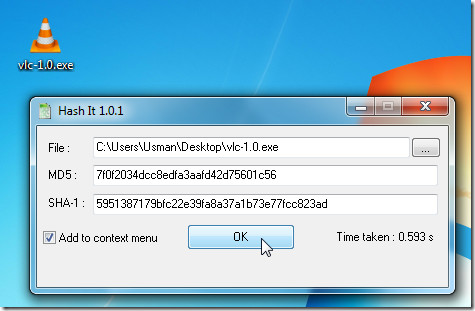 It provides an easiest way around to check the integrity of the software or application you're intending to use. So, next time you're downloading the application/tool from web or planning to buy one, keep it under the scrutiny of Hash It.
It runs on all Windows based OS, including the latest Windows 7. Testing was done on Windows x86 system.
For more, you can check out FlashSFV