How To Get The Windows 8 Volume Control In Windows 10
Windows 10 more or less fixed all complaints users had with Windows 8 and its UI. The chief problem was of course the lack of the Start button and the very confusing Start Screen. Windows 10 has a pretty nice UI but users are still nostalgic for certain Windows 7 UI elements. If you're pining for the old volume controls that appeared in Windows 7 or Windows 8 when you clicked the speaker icon in the system tray then there's a simple little registry edit you can make to get it back albeit with a slight Modern UI touch.

Open the windows registry by typing 'regedit' in Windows Search. Navigate to;
HKEY_LOCAL_MACHINE\Software\Microsoft\Windows NT\CurrentVersion\MTCUVC
If the MTCUVC key doesn't exist already, you will have to create it manually. To do so, go to Edit>New>Key. Make sure you add the key under CurrentVersion and name it MTCUVC.
In the key, add a new registry file. Go to File>new>DWORD (32-bit) Value and name it "EnableMtcUvc' without the quote marks. Set its value to 0.

Log out of your system and back in again. Click the speaker icon in the system tray and you will see Volume controls that resemble those on Windows 7 and Windows 8. Because Windows 10 doesn't have the aero glass theme, the volume controls will not look exactly as they did in Windows 7  i.e. they won't have the aero glass effect which makes them resemble the Windows 8 controls more. That said, the volume controls' interface is a good trade-off between the aero glass effect and the Modern UI.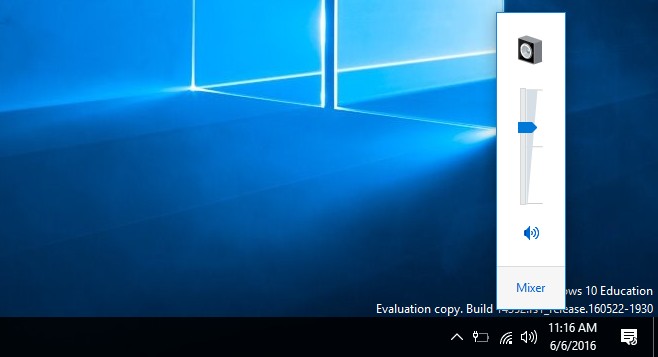 You can use the scroll wheel to increase or decrease the volume with the controls selected. You can open the volume mixer which you couldn't do from the default volume controls. The on screen volume display will still appear if you use the volume up/down, and mute/unmute keys on your keyboard. This does nothing to it. If you're looking to disable the on-screen volume indicators, here's an app that does that as a side function.