Keep Track Of Work Hours And Computer Usage With ManicTime
Time tracking applications are generally written to generate report for total time that has been spent on given day, but what about measuring the time you spend on different applications while working on your project work? ManicTime is a superior alternative to previously covered PAM (Personal Activity Monitor) for Windows. In addition to tracking time you spend on applications, it enables you to track computer usage in order to collect and record activities you perform on your system. Moreover, the application lets you manage work hours to keep work and life balance. Along with applications and computer usage, it also categorizes the usage of documents in a separate group. This comes handy when you have to go through multiple documents which are related with your work tasks.
ManicTime offers a simple yet intuitive UI with un-obtrusive controls to keep track of time you are spending on applications. The main interface shows timelines for tagged items, computer usage, applications, and documents.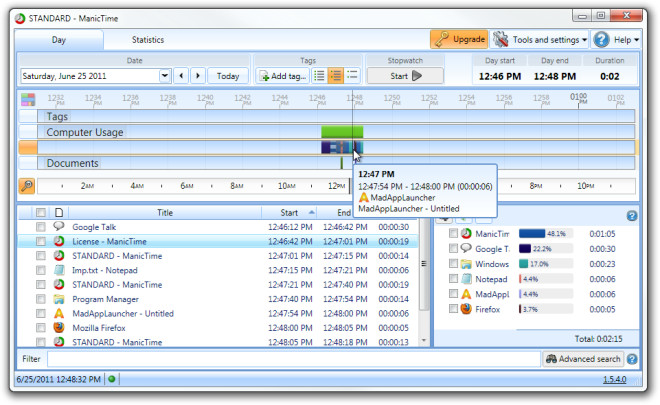 Underneath the main window, you will see currently active application and workspace whereas the pane next to it lets you view the time you have spent on each application. With each listed application you will see a histogram, showing the total time distribution in percentage. You can hover over the application or computer usage timeline to view previously active applications with time stamps.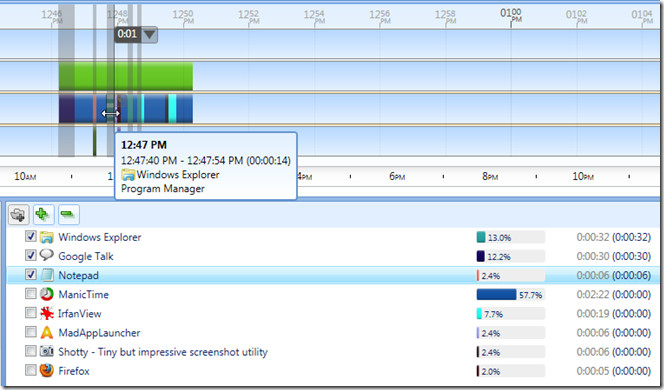 If you want to view record of time spent for multiple applications, select the applications lying in bottom right pane to mark time periods on timeline to check when the selected applications were active. On mouse hover, you will get to see exact time stamp for both when a specific application was launched and exited. From toolbar, you can view previous time tracking records and add tag for your home and work hours.
The Statistics window offers extensive information about the time you have spent on different applications. It plots time tracking data on chart which shows all the previously collected application usage records.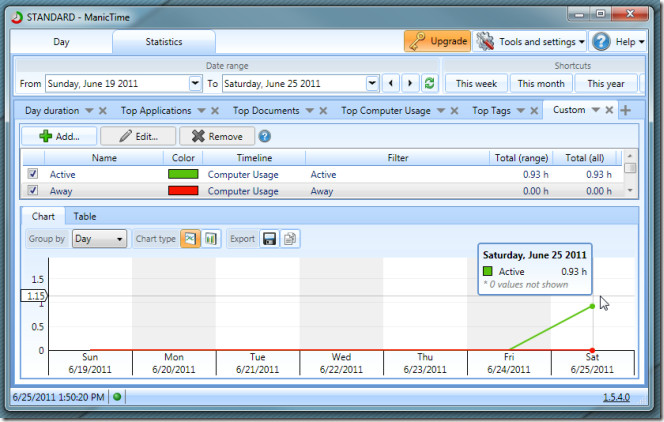 Alongside Chart, you will find Table tab which shows all the data in tabular format. Underneath these tabs, you have Save option to export data in CSV format. ManicTime can be upgraded to Pro version which costs $67, which offers a host of novel time management and time tracking features, such as, password protection, application grouping into categories, stopwatch, scheduled backup and lot more.