Make Skype Auto Reply & Get Contact Message Alerts
VoiceGear Contact Alerter is a plugin for Skype that adds auto reply and notification features. You can set different alerts and auto reply messages for every contact, giving you more control on each one of them. There are four main features of this app – Contact Status Alerts with Text Popup and Sound Notifications, Contact Reminders, AutoChat, and Last Seen Status Info.
Before you begin, you will need to Allow Access to VoiceGear from within Skype.

Once allowed, you will see all contacts listed on the main window of VoiceGear Contact Alerter. Select the contact and choose enable alert from the right sidebar. Now select when you want to be notified; when contact is Online, Away, DND, N/A, or Offline.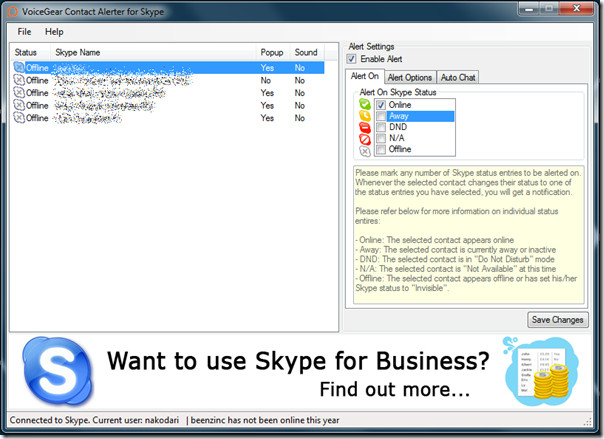 Foe every contact you will find three options(tabs) in the right sidebar. The default is Alert On, the second is Alert Option, and the last is Auto Chat. Click the second tab and choose the custom message that you want it to display or choose a sound.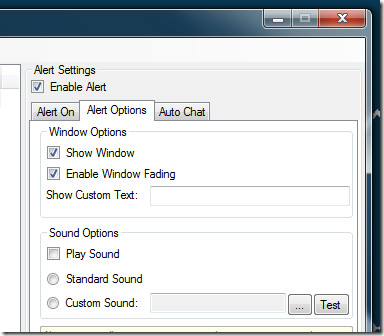 The third tab allows you to enter a message which will be send when someone messages you. This feature is mostly available in costly commercial apps, so it is a life-saver for busy Skype users.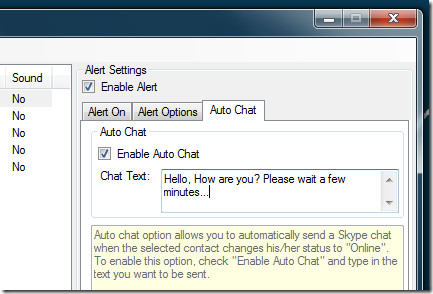 Below is an example of how alerts are displayed. You can choose for how many seconds the alerts should be displayed and can change other related settings from the Preferences.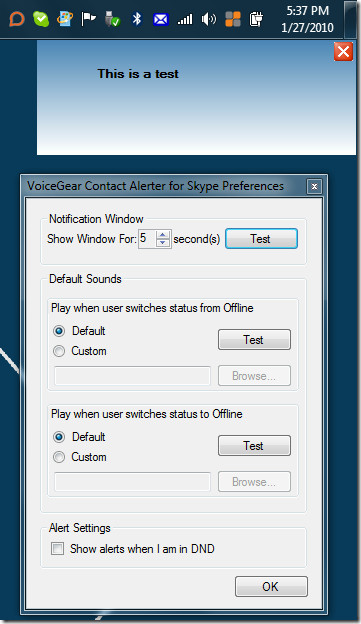 We have reviewed another similar tool before called Maxa Notifier for Skype but it lacks the Auto Reply feature. You can also have a look at iFree Skype Recorder.
Download VoiceGear Contact Alerter
It works on Windows XP, Windows Vista, and Windows 7. It requires Skype 3.x or higher and .NET Framework 2.0 or higher.