Hide Chart Plot Area In Excel 2010
Excel 2010 offers a lot chart-specific features and tools which you can use to overhaul the chart in a way you want. Many a times it is not necessary to show the chart plot area, Excel also allows user to conceal Plot Area to make your chart look more clean. To do so, head over to Chart Tool Layout tab, from Plot Area drop-down menu, click None.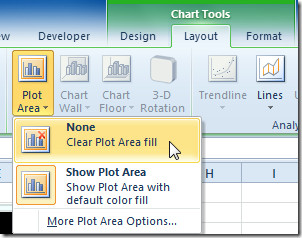 As shown above in the screenshot above, that you can easily make it visible again by clicking Show Plot Area.