Spyglass Is A Graphical Disk Usage Analyzer & Duplicate File Remover For Windows
If you're wondering what exactly is taking up all your hard drive space and not sure where to begin rectifying the issue, a disk analyzer can come really handy in such situation. These tools enable you to quickly discover large files on your computer and allow you to organize them to optimize your disk usage. Disk analyzers also help you understand the file structure on your hard drive. One such app that I recently came across is Spyglass: a powerful disk analyzer for Windows that shows you a graphical representation of your disk space usage, along with some amazing visualization effects. It allows you to quickly switch between different directories and get rid of clone or junk files. In other words, Spyglass is a simple disk analyzer that doubles as an effective duplicate files remover.
Besides its powerful scanning engine and elegant interface, the obvious mainstay of Spyglass is it's simple usage. To begin analyzing your files, simply drag and drop your desired folder on to the application interface. You can also alternatively click the Plus button at the center to point to your target directory.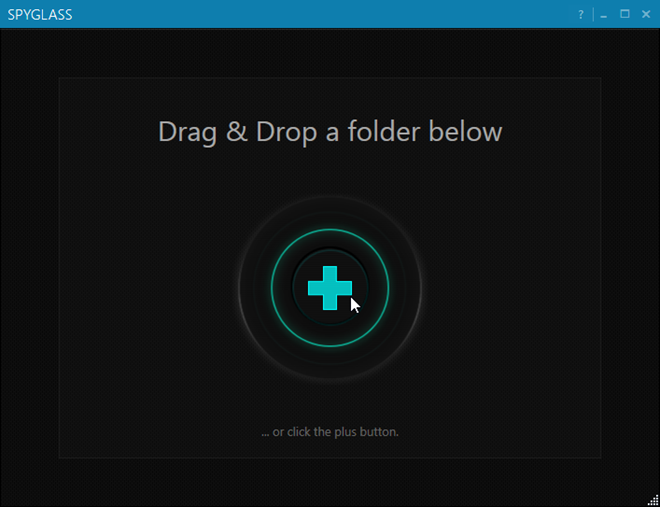 Spyglass then begins scanning through the files and subfolders within the selected directory and analyzes total size of the data. Unsurprisingly, the larger the folder you choose, the more time Spyglass will take scanning through all the items.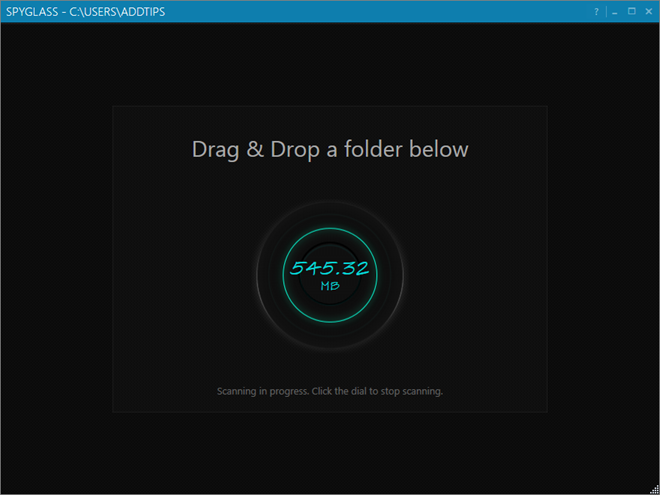 After finishing the scan, the app presents a list of scanned items on the Navigation bar to the left, along with graphical diagram of the disk that the developers tout as Sunburst view. This diagram comprises of a few different color-coded arcs that help you understand the type of items they represent. Blue arcs represent folders, orange arcs represent files, while the gray ones are combination of small files and folders. You can click the blue arcs to drill in, while clicking at the center lets you drill out. The app also shows a Breadcrumbs bar at the top that displays the full path of the selected folder and lets you navigate between the path's directories.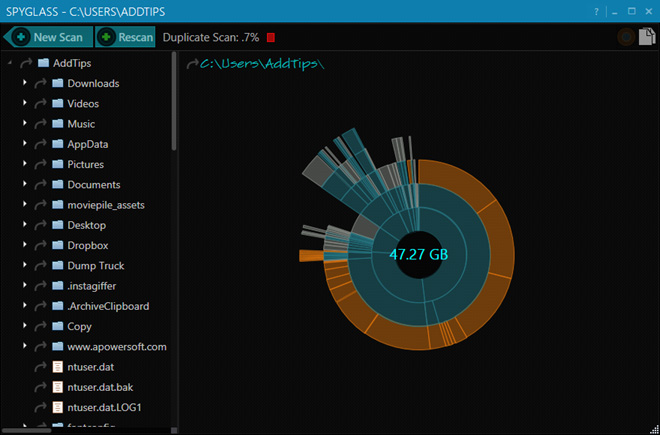 As mentioned earlier, Spyglass also comes packed with an effective duplicate finder to clean off unwanted junk or duplicate items. The duplicate finder enables you to flag the items for moving or deleting in order to organize or reclaim your disk space. You can also click the minuscule arrow next to any item to browse the file in Windows File Explorer. Lastly, the application lets you sort the navigation list by file size, name, modification date or duplicate count.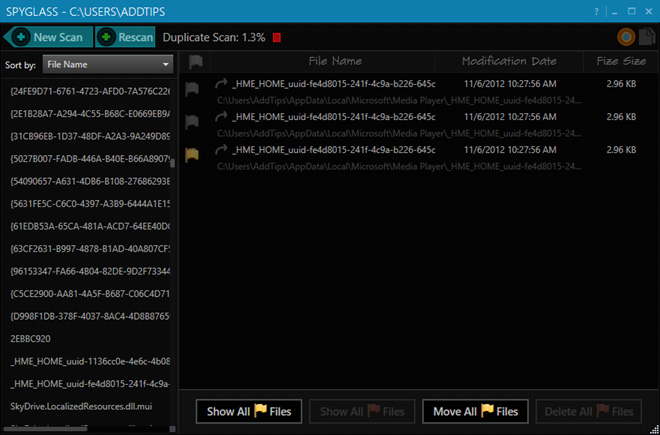 Spyglass is a free application and works on both 32-bit and 64-bit OS editions of Windows XP, Windows Vista, Windows 7 and Windows 8.