Change Windows 8 Start Screen Dimensions And Show Taskbar On It
Don't listen to the naysayers; Windows 8 is as good as gold, and so is its refreshing Start Screen that many are apparently finding hard to adapt to due to the conventional resistance to change. Although Microsoft has put certain constraints on Start Screen customization, third-party developers have been working hard to overcome them with their own apps and hacks. Previously, we covered a Start Screen personalization tool called Start Screen Modifier that allows Windows 8 users to decrease the size of Start Screen, display it within the desktop, and use hotkeys to instantly switch between the default and custom modes. The developer behind the app has released a major update for Start Screen Modifier, which adds the option to display the Taskbar within the Start Screen, so that you don't have to switch to desktop mode in order to tinker with something requiring the Taskbar.
Once downloaded, simply extract the portable EXE file anywhere on your machine and run the application.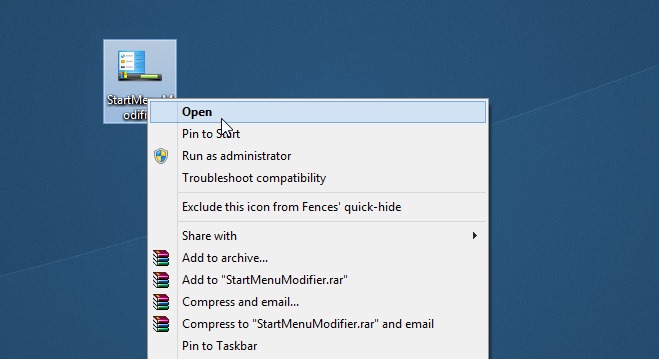 The application window consists of a small console. As before, the application still allows you to define hotkeys for instantly swapping between custom and native modes. The major changes here have been made under the Position drop down menu. The tool now lets you display the Start Screen at top or bottom of the desktop with a custom size in pixels. Previously, the height value was locked at 325px but now, you can simply select the the position from the menu and enter the height parameter in a separate console that appears afterwards.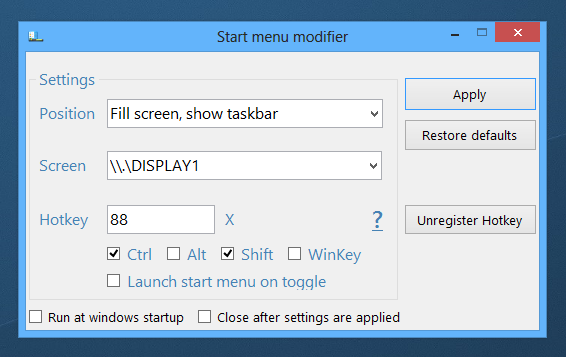 During testing, I tried throwing in a couple of different values and all of them worked without a glitch. Once you have entered your desired value, just press OK and then hit Apply on the main window.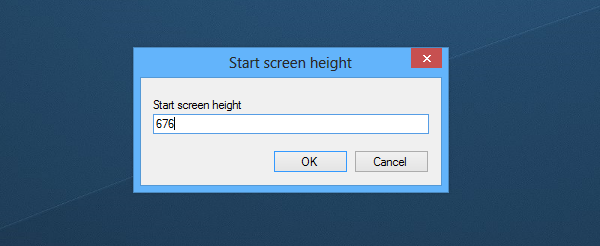 The obvious mainstay however, remains the application's new ability to display the Taskbar right on the Start Screen. Just select 'Fill screen, show taskbar' option from the Position drop down menu, and click the Apply button. The Taskbar will now appear on the Start Screen just the way it appears on the desktop. The screenshot below demonstrates how the Taskbar looks in the metro environment.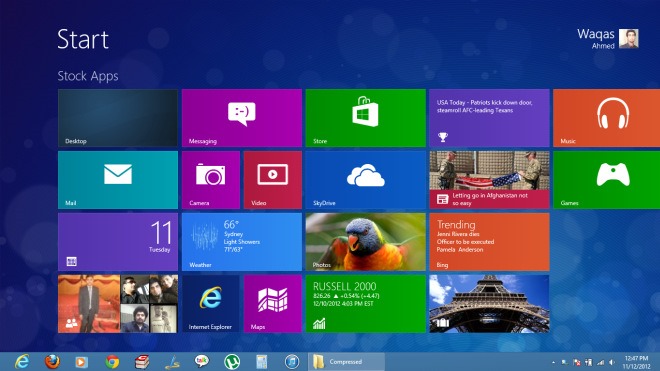 Note that the Taskbar will still be invisible within any Modern UI app, so having Taskbar intact within Windows 8 apps still remains an exception. Though considering how the modern UI apps are optimized to run in full-screen mode, as well as the difference between the aesthetics and design philosophy of the taskbar and the Modern UI, it does make sense to keep them separate.
Overall, Start Menu Modifier is an excellent application that perfectly does the job it's supposed to do. The application works on Windows 8 and Windows RT. Testing was carried out on Windows 8 Pro, 64-bit.