Control GIF Animation Playback & Export Frames As JPG Images With 7GIF
How do you pronounce GIF? Is it like the popular peanut butter brand Jif, or more like the 'gif' in gifted? The debate regarding the format's true pronunciation has been in the limelight for a while now, but we all now have the answer as the creator of the format, Steve Wilhite, denounced the 'gif' as in 'gifted' pronunciation pretty strongly last week. Whichever way you like saying it is entirely a different story, but the use of animated GIFs goes back to as far as the early days of the world wide web. The format is pretty popular on internet forums for sharing funny pictures related to celebrities, tech companies, cats & dogs, and a lot more. We've covered plenty of applications for Windows that let you view (or in some cases tweak or create) GIF files, such as GIFCam, GIF Resizer and GiftedMotion, just to name a few. 7GIF is another tiny Windows app that allows you to view GIF files and control their playback speed.
You can play, pause and rewind your favorite GIFs on the fly, as well as change their playback speed. In short, it's a media player specifically designed to handle GIF files. The interface of 7GIF resembles that of an image preview tool (like Windows Photo Viewer); you get a few playback, zoom and navigation controls at bottom, while the GIF preview itself takes the rest of the window.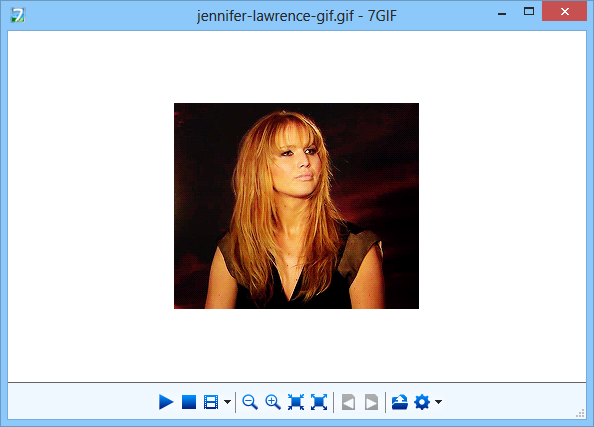 The fastest way to view your GIFs is to drag and drop them over 7GIF. You can use the pause button to pause at any frame – a handy option that other image viewers usually lack. The animation options button next to stop lets you control playback speed of the frames that the GIF file is made of between fast and slow. In addition, you can use the next and previous buttons to skip one frame at a time. Images can be zoomed in and out via the magnifying glass buttons. The application also lets you jump to next or previous files in a row, provided you have more than one GIF file opened in the app, of course.
The Tools button on the far-right throws in more options on the table such as save current or all frames in the GIF file as individual JPEG images, print the current frame, access file properties, enter full screen mode, hide toolbar, toggle always on top, change background color of preview, check for updates, and open advanced settings. All these actions can also be performed via their pertaining hotkeys.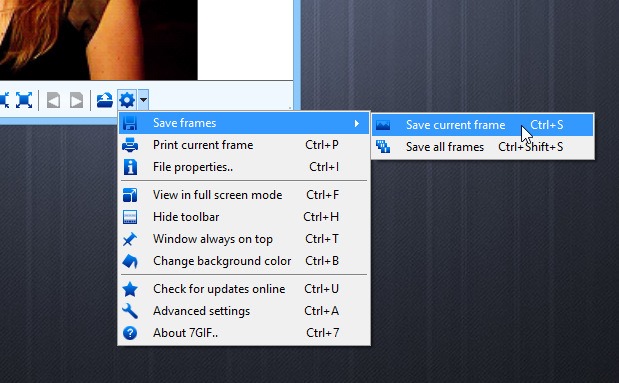 When it comes to the 'Advanced settings', this window allows you to enable or disable a few more application-specific options, all of which are pretty much self-explanatory. Settings can be configured under General, Associate GIF files and Change Language sections.
7GIF works like a charm on Windows 8, and also supports Windows XP, Vista and 7.