Create A Quick Ad Hoc Wireless Network Connection Between Two Computers In Windows 7/Vista
Do you want to create a quick network connection between two computers or laptops to share some files? Or maybe you want to share an internet connection? Windows 7 and Vista have a build-in feature to create a quick ad hoc wireless network connection, this means you can connect directly with another computer or laptop without the need of a router.
To begin, click Start and select Network. Now click on Network And Sharing Center as shown in the screenshot below. If you can't find Network, then type Network in Start Search and hit Enter.

Now in the left sidebar, click Set Up A Connection Or Network. From the list select Set Up A Wireless Ad Hoc(Computer-To-Computer) Network option and click Next.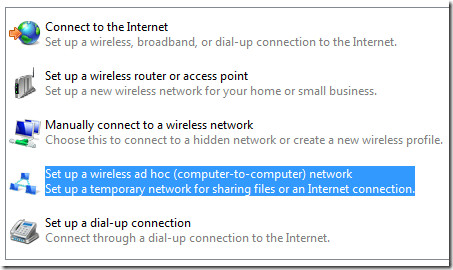 Click Next again and it will ask you to type a Network name and select the Security settings as shown in the screenshot below.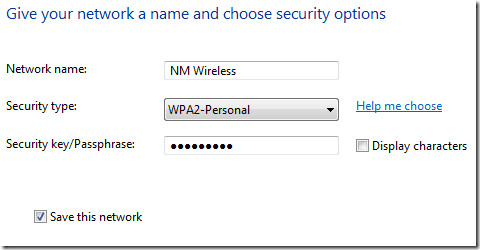 Make sure you select a good password, if you don't know which security type to select, click on Help Me Choose link next to it. After you are done click Next and the Network connection will be ready.
Now in the Network And Sharing Center you can choose what to share as you can see from the screenshot below.

To Share an Internet Connection, click View Status next to the connection that you want to share. Now click on Properties button which you will find under Activity.
Click on the Sharing tab and tick the checkbox where it says Allow Other Network Computers To Connect Through This Computer's Internet Connection. Under Home Networking Connection select Wireless network Connection and click OK.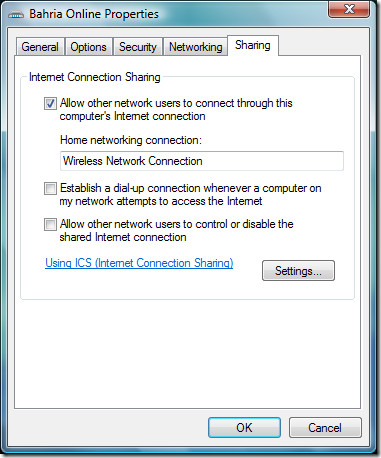 Now your connection is ready to to shared. To enable the wireless network connection you just made, go to Start and click Connect To.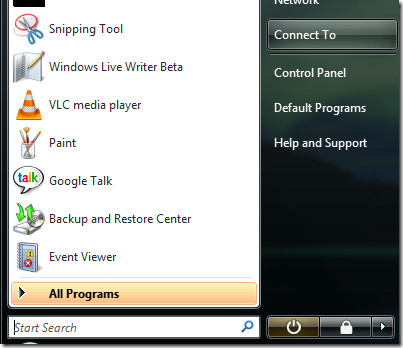 You will see your wireless connection listed there. Select your connection and click Connect.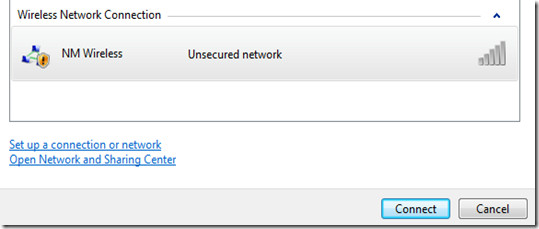 You will see a success message as shown below.

You will see your connection listed under Wireless Network Connection on the other computer. Simply connect from there and you are done sharing the internet connection.
Note: To connect successfully make sure the wireless hardware is enabled on both computers or laptops.