DamnVid – Download And Convert Online Videos On-The-Fly
DamnVid is both a local video converter and an online video downloader/converter. Converting local videos is nothing new, Oxelon Media Converter does a better job. What we actually love in this app is the on-fly conversion of online videos while they are getting downloaded. In layman's term, you can download videos from multiple video sharing sites and convert them in real-time while they are getting downloaded.
It is a must have tool, there we said it. Instead of having to first download the videos and then convert them using additional 3rd party tools, why not download and convert them on-the-fly? DamnVid supports tons of video sites, including, YouTube, Break, CollegeHumor, Dailymotion, Flickr, Blip.tv, Game Trailers, deviantArt, IGN Video, Metacafe, MySpace, LiveVideo, Megavideo, Veoh, and Vimeo, among many others.
To begin, select a video file (local or online). Once added, it will be listed on the main window with Pending status. When adding online videos, it can monitor your clipboard and list all detected videos that have been copied to clipboard.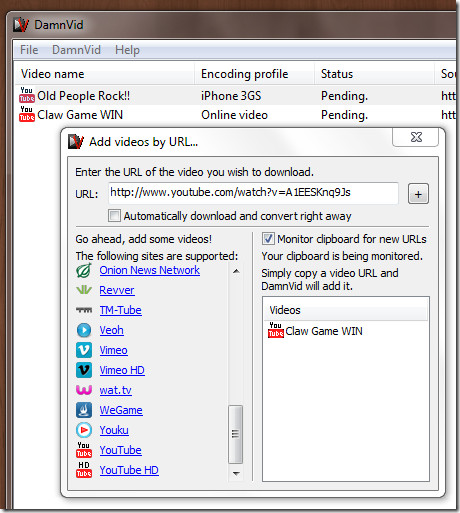 There are multiple profiles you can convert the video into. Right-click the video file, select Encoding Profile, and choose the desired profile in which you want to convert the video.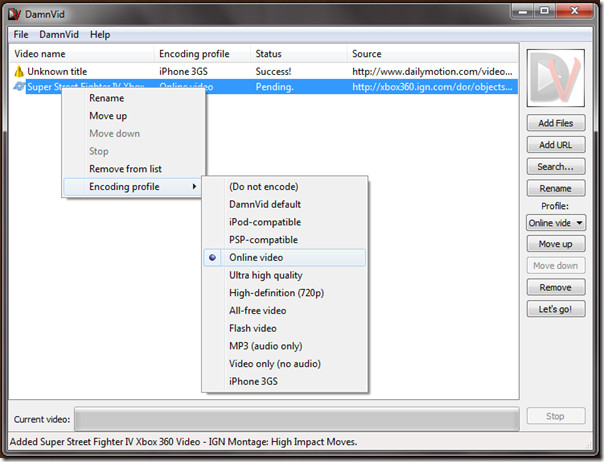 Once all is done, hit Let's go! button to begin the process. There are plenty of video options you can tweak from Preferences. Select a profile from the list or hit Add Profile to create a custom new profile.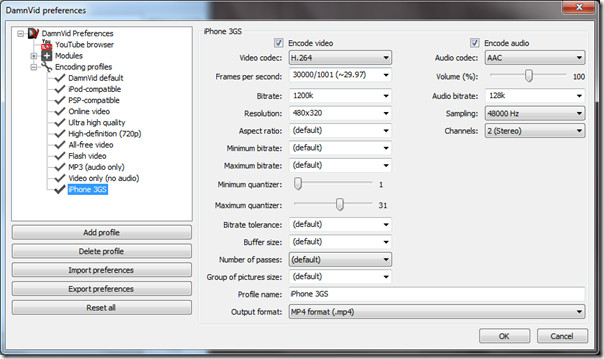 While testing the application local videos converted seamlessly but online videos were mildly successful. Some online videos converted successfully, while others didn't (got converted only 40% and that's it). You might have better luck with it, go ahead and give it a shot.
Apart from Windows, the application is available for Mac and Linux as well. The machines we tested on runs Windows 7 x86.