Design Your Own Photo Calendar In Windows, Mac & Linux With Pically
An album is about the past and a calendar is about the future, but that doesn't mean they have to be mutually exclusive. A great way to combine looking forward to the time ahead while reminiscing your glory days from the past is to make your very own picture calendar with Pically. Pick out one favorite photo for each month, add holidays and special occasions, print the resulting calendar, and hang itin front of you – a portrait of what you have been, and a canvas for what you may yet become. The java-based app is available for Windows, Mac and Linux. Details to follow.
You'll need to have Java installed on your computer in order to use Pically. It's a portable app and requires no installation, so just launch the downloaded file to begin creating your calendar. The user interface is pretty self-explanatory. To add an image, all you need to do is drag and drop it in the specific month. Alternatively, you can use the 'Select Picture' button for each month to browse your computer for stored images.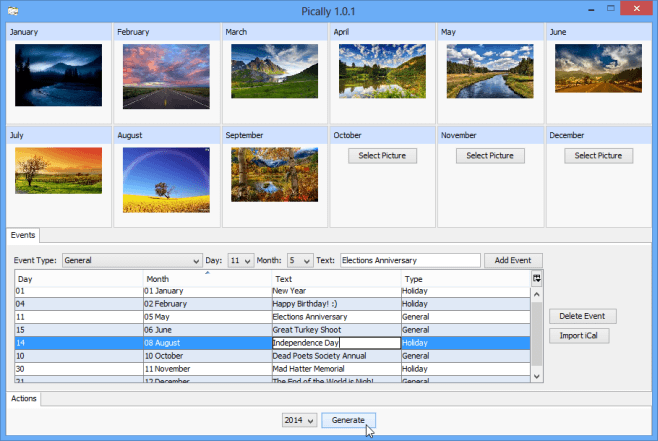 Under the 'Events' tab, you can use the available options to create special occasions and pin them to your calendar. Simply select the type of event, specify the date, and hit 'Add Event'. You can also specify what the event is about in the text field; if this becomes your go-to calendar for the year ahead, you'll always remain apprised of incoming anniversaries with this feature.
You can edit an event directly from the list window. If you want to delete an unwanted event, select it and hit the 'Delete Event' button. The little button tucked above the scrollbar enables you to toggle certain categories on and off. If you don't want to keep the event type drop-down menu or the text field, for example, you can get rid of them from here. Under the 'Actions' tab, you can select which year you want your calendar for, anywhere from 2011 till 2015. Click 'Generate' to create your calendar as a PDF document. If you're using a Mac, you can upload iCalendar files containing appointments and engagements via the 'Import iCal' button. Th resulting calendar will then act as a physical counterpart to your online iCalendar.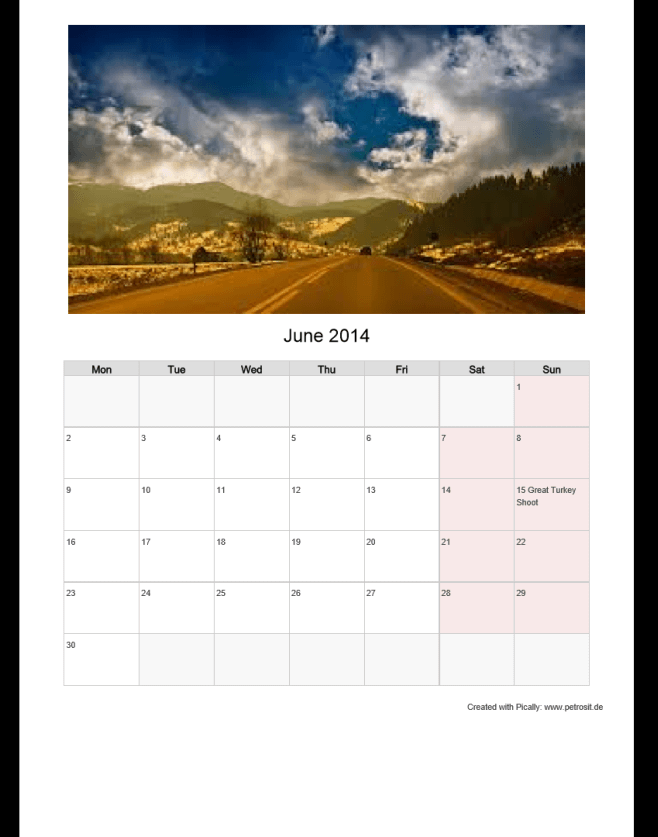 Pically is a straightforward and unpretentious application, and the calendar's clean layout reflects that. There's ample room to write little reminders for yourself and reflect on the days ahead. The calendar above is for 2014, but let's agree 2013 is still important. After all, it's not that almost half the year is over; it's that over half a canvas is still empty and waiting.