Force-Stop All Inessential Or Malicious Windows Processes Using KillEmAll
No matter how powerful and effective your security software may be, new malicious threats like viruses and spyware can still find their way into your system, compromising your private data without you even knowing. Some malware can even prevent you from running your applications (including antivirus or antimalware programs), making it fairly difficult to take them down. This is where apps like KillEmAll come to rescue. Sporting a user-friendly interface, this tiny desktop app for Windows is aimed to stop all the currently running processes and programs with a single click, including those that run in background or are auto-executed by viruses, spyware, or other rogue applications. KillEmAll can also prove to be useful to swiftly terminate unstable processes and applications that lead to system crashes or hiccups. Details to follow after the jump.
The application boasts a UI that is not only quite user-friendly, but also fairly effective at what it offers. When launched, all your your currently running processes (including opened windows, background processes and services) are automatically terminated, leaving behind only the core Windows processes essential to keep the computer running. Even though it can remove malware from your system, the app can help you get rid of it yourself by making it possible for you to delete its files or use other tools after killing all its processes. The application may occasionally be terminated itself by a malware, so you may need to try a couple of times before successfully killing the target threat(s).
Holding the Shift or Ctrl keys while executing the app starts it under service and debug modes respectively. The former gives more control to the application for terminating required processes, and allows it to continuously run in the background and restart itself should it be stopped or killed by the malware. Debug mode, on the other hand, can come handy to manually terminate each process one by one.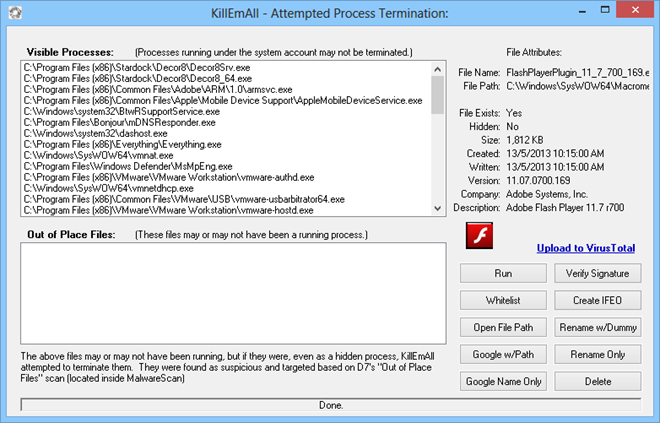 KillEmAll displays a list of all visible processes on the left. You can select the required item and perform further actions from there. For instance, you can relaunch a process by selecting it from the list followed by clicking 'Run'. Similarly, you can move a trusted process to the Whitelist so that it doesn't get terminated the next time you run the app. Other available options let you open the file path of the selected process, Google its path or name, verify its signature, create IFEO, rename the item manually or with dummy text, or just remove it from the list.
Lastly, KillEmAll also enables you to directly upload a process to Virus Total – an online virus scanning service that analyzes suspicious files through a series of scans using a wide array of popular antivirus engines. To upload a process, select it from the list and click the 'Upload to Virus Total' link from the right.
KillEmAll works on both 32-bit and 64-bit versions of Windows XP, Windows Vista, Windows 7 and Windows 8.