EaseUS CleanGenius Offers 20+ System Maintenance, Optimization & Other Utilities
System cleanup and optimizer software come in handy when your PC starts experiencing performance issues. Most users download and install multiple cleanup and optimization utilities to enhance the overall system performance and carry out regular system cleanup operations. Users looking for an all-in-one system maintenance package, need not look beyond EaseUS CleanGenius, an application for Windows that offers a comprehensive solution for almost all types of system cleanup, optimization and performance issues and maintenance tasks. The major features other than cleanup and optimization include file splitter/joiner, driver backup, uninstall manager, file encryption/decryption, empty folder finder, file shredder, shutdown scheduler and more.
The application offers a sleek interface, with system scan options present on the left side, while the right side holds the Privacy Protect, Turbo Boost and Utilities box features. Underneath these features, you will find a total of four toggles including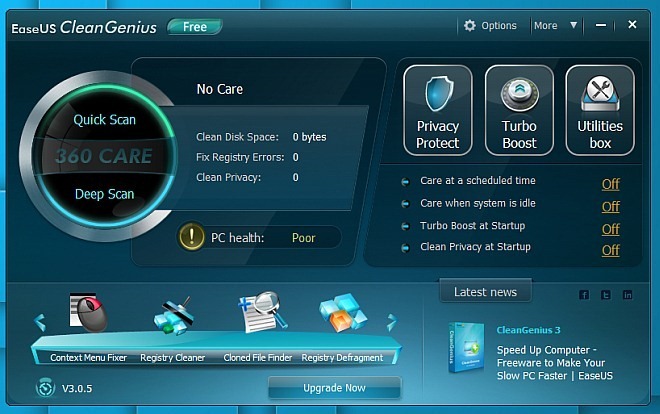 It presents two system scan options on the main screen including Quick Scan and Deep Scan. The Quick Scan includes Junk Files Cleaner, Shortcut Cleaner, System Optimizer and Privacy Sweeper, while Deep Scan contains Network Optimizer and Disk Defragmenter. Using Quick Scan or Deep Scan, you can select the required system maintenance options and click Scan. Once it scans your computer, it will show the number of  problems it found during the scan process. Clicking the the Clean button performs the selected operations to optimize the system.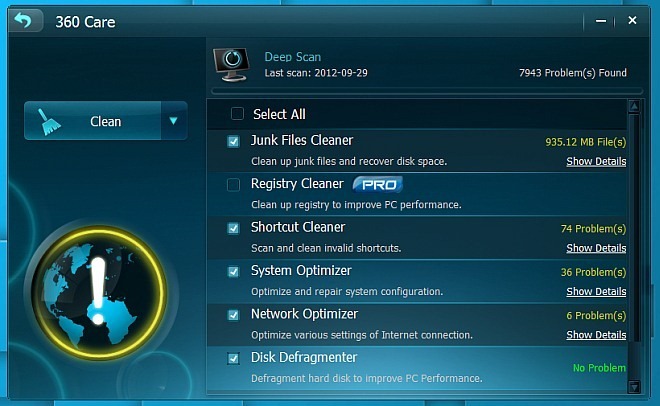 The  Privacy Protect, Turbo Boost and Utilities Box sections include a total of 18 tools. In Protect Privacy section, you have the privacy and app cleaning related options, which include Remove tracks of the Web Browser, Instant Messenger, Social Network Service, Windows History, Multimedia and Other Applications. Click Scan to show the junk data that needs to be removed. The Clean button will trigger the junk data removal operation.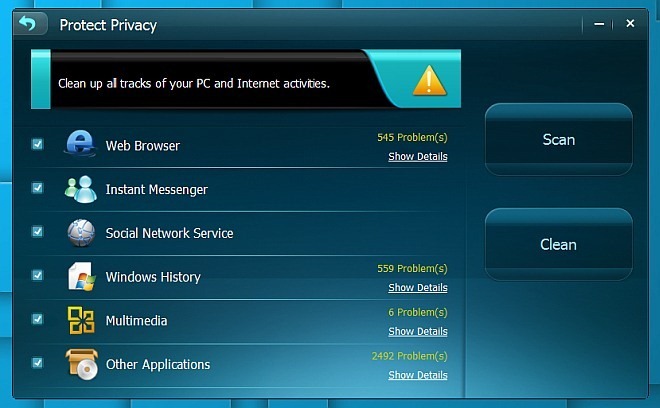 The Turbo Boost section offers a one-click system boost button. Before you click it, it lets you set the system boost configurations. Click Config Turbo Boost Wizard to open the  configure wizard, which provides you with the options of disabling the system services, running applications and themes. It also asks you to run turbo boost on startup. Just select the required options and click the Next button to save your custom system boost configurations.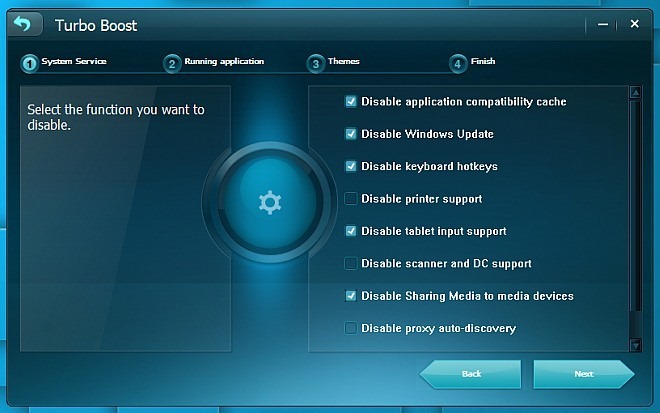 All the other features of CleanGenius can be accessed from the Utilities Box section. Clicking its button on the main screen will show you all the features in tabs, arranged by categorizes, which are Optimize, Clean, Repair and Control. The Recently tab shows all the recently used features, present inside the Utilities box. The Optimize tab contains Memory Manager, Startup Manager, Disk Defragment and Uninstall Manager. Clean tab contains Disk Cleaner, File Shredder, Top File Finder and Empty Folder Finder. The Repair tab contains Shortcut Cleaner, Disk Check, Context Menu Fixer and Driver Backup. Finally the Control tab contains Shutdown Scheduler, Process Manager, File Splitter, File Encryption and Unlocker.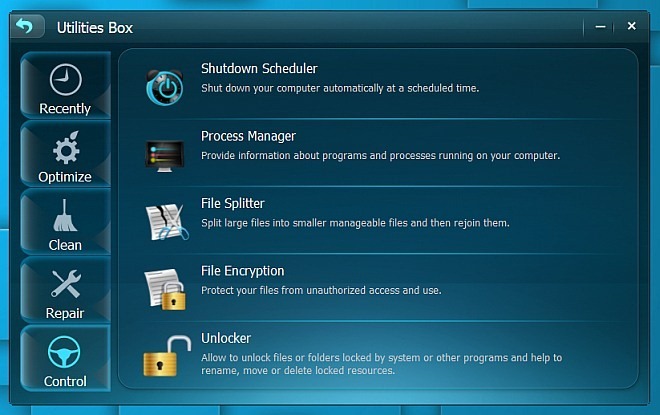 Let's take a brief look at the benefits of all the features available in the Utilities Box.
Memory Manager: defragments the physical memory to provide quick access to all loaded data.
Startup Manager: allows and restricts applications from running at Windows logon.
Disk Defragment: defragments the hard disk to boost the overall data retreival speed.
Uninstall Manager: lets you remove application entries and uninstall the applications.
Disk Cleaner: it finds out all the junk files and gives you an option to delete them to save disk space.
File Shredder: helps you securely delete personal files.
Top File Finder: it scans and shows you the largest files on your computer and provides you an option to delete them.
Empty Folder Finder: scans your computer for all the empty folders and lets you delete them.
Shortcut Cleaner: scans and finds out all broken shortcuts.
Disk Check:  scans local and removable disks for errors and repairs them.
Context Menu Fixer: lets you manage all the Windows right click context menus of your computer.
Driver Backup: allows you to backup all your drivers and restore them later.
Shutdown Scheduler: lets you schedule system power options including shutdown and restart.
Process Manager: provides information about the programs and processes running on your computer and option kill selected processes.
File Splitter: lets you split files into smaller chunks and join them together.
File Encryption: encrypts and decrypts your files to prevent unauthorized usage.
Unlocker: unlocks files and folders locked by the system or by any running application.
EaseUS CleanGenius also has a paid version, which can be had for $29.95. The paid version includes some extra features including Care at a scheduled time, Care when system is idle, Turbo Boost at Startup and Clean Privacy at Startup, Registry Defragment, Registry Cleaner and Clone File Finder, 
The application supports Windows XP (32-bit), Windows Vista(32-bit and 64-bit), Windows 7 (32-bit and 64-bit), Windows 8. The Mac OS X version is also available for 15-day trial period. Testing was carried out on Windows 7 64-bit.