How To Enable The Ultimate Power Plan On Windows 10
The Windows 10 Spring Creators Update is going to add a new power plan in Windows 10 for high performance. This power plan is called the Ultimate Power Plan and is geared towards hardware that requires a lot of power. It's hidden by default so you can't just select it from Power Options, or from the battery slider in Windows 10. You can enable the Ultimate Power Plan on Windows 10 from the Command Prompt. You will need administrative rights to enable it, and it can only be enabled on the Spring Creators Update, or on one of the insider builds for Redstone 4 or Redstone 5.
Enable Ultimate Power Plan
Open Command Prompt with administrative rights, enter the following command, and tap Enter.
powercfg -duplicatescheme e9a42b02-d5df-448d-aa00-03f14749eb61
This will return the Power Scheme GUID for the power plan. It is now enabled and you can select it from Power Option.
On your laptop, right-click the battery icon in the system tray and select Power Options. If you're on a desktop, paste the following in File Explorer and tap Enter to open Power Plans in Control Panel.
Control Panel\Hardware and Sound\Power Options
Expand Additional Plans, and you will Ultimate Power Plan appear in the expanded section. Select the plan to enable it.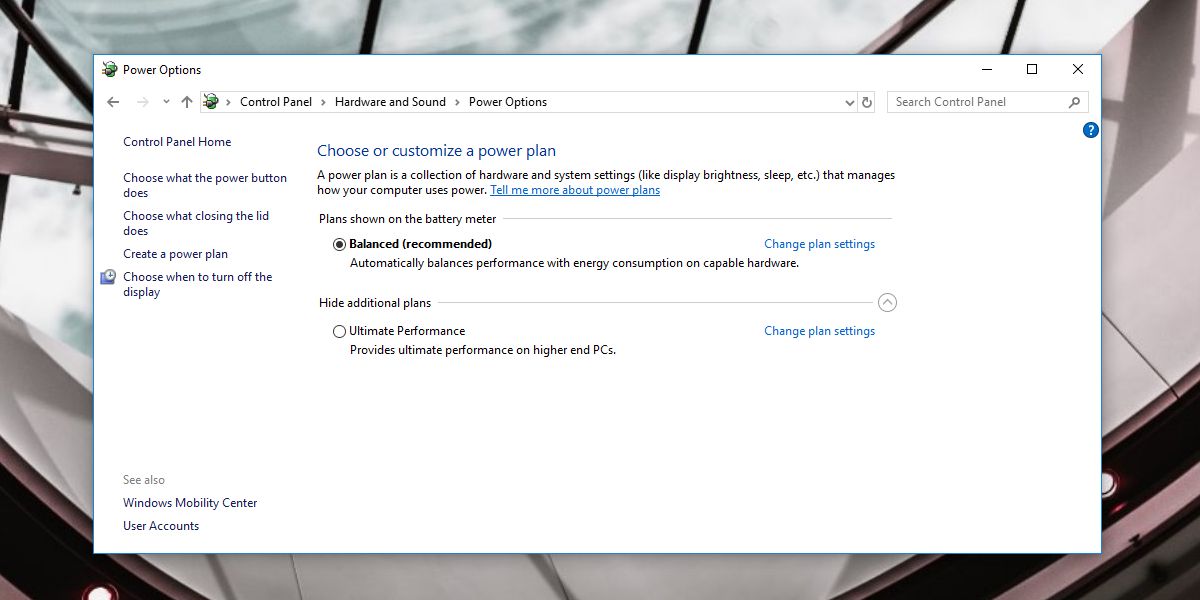 The Ultimate Power Plan is going to give you perhaps the worst battery life you can imagine on your laptop. Some users might think that this plan is geared exclusively towards desktops but there are a lot of great, high performance laptops available and this plan can run on them. That said, don't benchmark your battery life on this power plan and make sure you're not working on anything critical if you're running on battery power.
Microsoft announced this power plan back in February 2018 for the Spring Creators Update and said it isn't geared towards battery powered systems. It is possible that while you can enable the Ultimate Power Plan on a battery powered system, you cannot necessarily switch to it unless your laptop is plugged into a power source. This power plan basically eliminates or greatly reduces whatever measures and restraints a high performance power plan applies to reduce micro-latencies. It's not geared towards games and is more likely to be useful for anyone working with code or heavy graphics. If you own a Surface Studio, you might greatly beenfit from enabling the plan.
The individual components of the Ultimate Power Plan can be customized just like the other power plan.