Encode Messages & Valuable Text Inside Images Using Cipher Image Free
Transferring sensitive information from one place to another without compromising the privacy of data is a tricky business in the current world, where not even your account statements are safe from hacker groups and privy individuals. Hiding information inside images is called Steganography, and it is a rather safe method for transferring sensitive data. This way, until unless knows that a picture contains data, and has the key to decrypt it, no one can get  to it. If you are looking for a tool that allows you to hide data into images, read on. Cipher Image Free is a tool that lets you encode images and hide valuable text into any image. Several encrypted images together with hidden text can also be saved into one file. The program supports more than 21 image formats, and allows saving the output file in 7 different formats. Cipher Image Free uses 128-bit encryption, and allows you to either generate an automatic key or create one of your own.
The interface of Cipher Image has an Input pane at the left, and Output pane towards right side. The Input has Open Image, Paste Image From Clipboard, Remove Selected Image, New Key, Add Hidden Text, Remove Hidden Text, Encrypt Image and Decrypt Image buttons at the top, while the input images and Write or read Hidden Text field appears in the middle of the interface. The Output panel at the right side has Save Image As, Copy To Clipboard and Delete Selected Images buttons available at the top.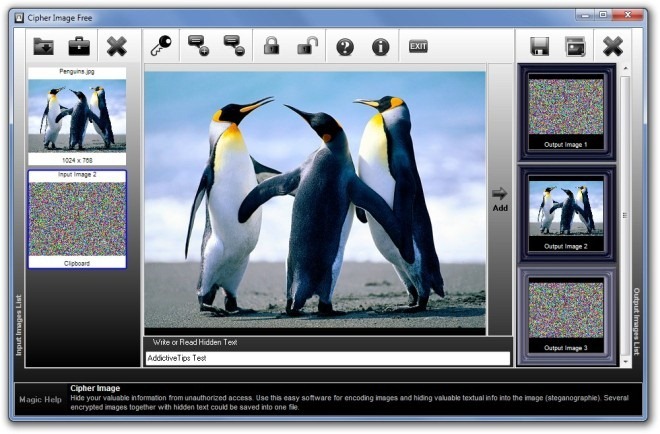 To encode an image, click Open Image and choose an image from your collection. Then, click New Key and either generate a random key or enter one yourself. The key can also be saved to a text file, so that you don't lose it. Then, select Encrypt Image, enter the required text in Write or Read Hidden Text field, choose Add Hidden Text at the top and click Add. From the right pane, select Copy Selected Image and Paste Image From Clipboard on the left to see the encrypted text.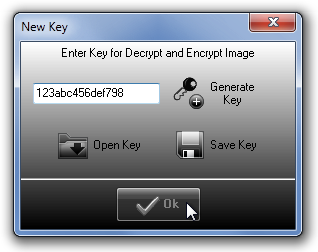 Check out the video below for a demo of the application.
Cipher Image Free works on both 32-bit and 64-bit versions of Windows XP, Windows Vista, Windows 7 and Windows 8.
For more applications of similar nature, you may also check out SilentEye and OpenPuff.