How to find least used keys on Windows 10
You can remap keys and change keyboard shortcuts on Windows 10. It's simple enough and can be done both via apps like AutoHotKey or by editing the Windows registry. When it comes to remapping keys on the keyboard, you need to stop and think which keys you can spare and if you're not sure, you need to know which are the least used keys on your keyboard. KeyCounter is an app that can count how many times a key is pressed on your system.
Least used keys
Download and run KeyCounter. You can select which keys to monitor, or you can monitor any and all keys on your keyboard.
If you want to select which keys to monitor, you can open the dropdown under Single keystroke and select it. Click Add. If you want to monitor entire groups of keys e.g., all the alphabet keys, you can select the group from the Preset keystroke groups section. If you want to monitor all the keys, simply select the 'All the above keys' option.
Click 'Start Monitoring' and minimize the app to the system tray.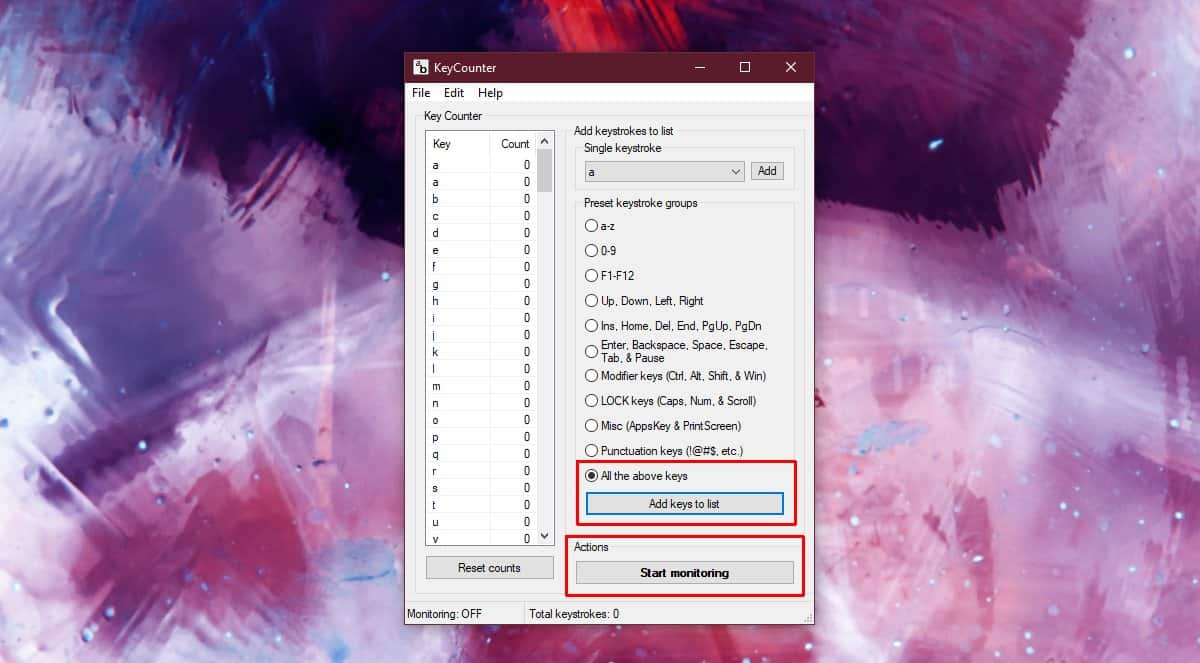 Use your system like you normally would. To get an accurate idea of the most or least used keys on your system, you should allow the app to run for an extended period of time e.g., an entire day or maybe even a week.
Open the app when you're ready to look at your stats. Click 'Stop Monitoring' to stop the app from counting your key strokes.
The columns on the left list every single key on your keyboard and the count column tells you how many times it was pressed. Scroll through the column to find the most or least used keys.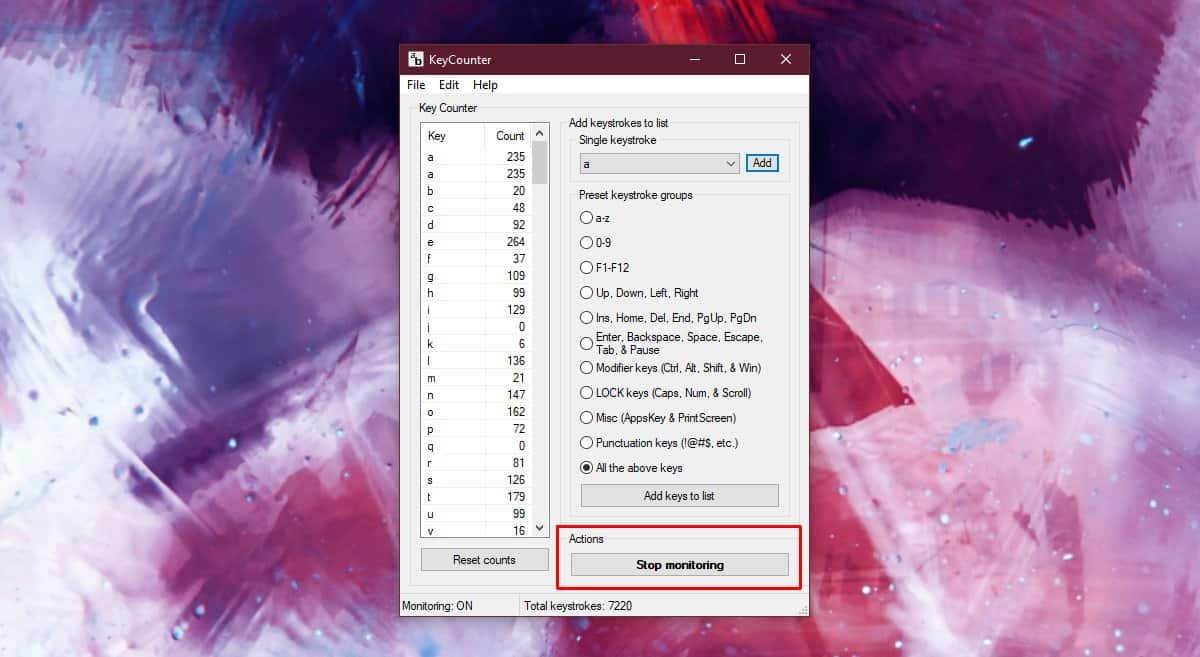 If you think the information will be easier to go through in a spreadsheet, go to File>Export as CSV. You can open it in Google Sheets or Microsoft Excel. It might be a good idea to use an app that can treat the comma as the delimiter character.
Once you know which is your most frequently or least frequently used key, you can go ahead and remap or assign the unused or less used ones to do whatever it is you need them to. If you feel a certain project may have given you an unrealistic key count, you can click the 'Reset count' button and the count for all keys will be set to zero. Start monitoring keystrokes again and monitor them for a reasonable amount of time to get a good idea of your usage.