How To Encrypt Text With Up To 4 Unique Keys For Better Security
Hackers and cyber thieves can get into your computer or intercept data transfer to steal your important information if it is not properly secured. Text encryption becomes a necessity when you have to transfer information to another person over the internet. For instance, if you have a list of all your passwords saved in a file somewhere on your computer (we advise heavily against doing that, mind you!), and someone knows where to look, it can be easily stolen and used in a malicious way against you. Sensitive data should be kept either in an encrypted archive, or the text should be encrypted, depending on your requirement. Today, we have an open source application for Windows called CTI Encryption that allows you to perform text encryption and decryption from the same interface. The application allows you to encrypt your textual data using multiple keys for a single input, including Process ID and Hard Disk Serial No. It means that anyone trying to decrypt the data will have to guess multiple Keys, as well as the number of Keys used to secure the text. Moreover, there is Multi-language support in the program.
The software allows you to easily encrypt the text without making you go through extended options. You don't have to setup the program before usage. The fact that it is a portable application makes it easy for you to move, and keep, your data secure even when your files are placed in a USB drive. You can encrypt data, copy files along with CTI Encryption tool in the USB drive, and carry the drive to your destination. When the data is secured, you don't have to worry about losing your USB drive or someone stealing it from your possession.  The main interface has 2 tabs at the top, named Two Way Encryption and One Way Encryption. The Two Way Encryption tab lets you encrypt and decrypt text using four separate keys. The Keys section is at the top, while the buttons to manage source text are available below it. To Encrypt data, paste it into the main interface, enter a Key into the field named Key 1 and click Encrypt. You can use more than one keys at a time for securing your data. To decrypt data, enter the same Key combination, and click the Decrypt button – it's that simple!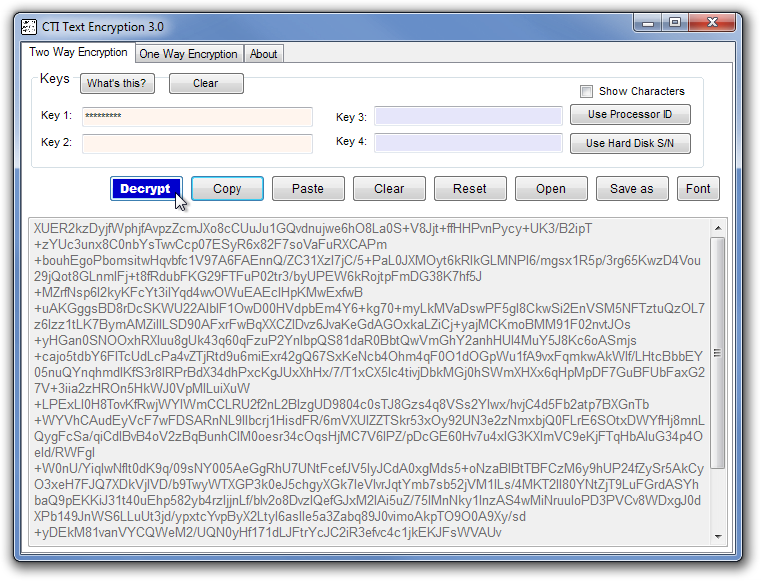 The second tab, One Way Encryption provides users with several options to perform one way encryption of your data. A note at the top says that the data encrypted in this mode is not reversible and cannot be decrypted. You can use multiple keys, enable type-safe characters, specify output formats, separate the output into blocks etc to encrypt the data.
When testing the app, I have to admit, I got to wondering what use could one have for only encrypting text and not being able to decrypt it. The only reason we can fathom is for storing secure text in, say, databases, which can later be verified through checksum matches without being able to decrypt it (passwords are stored this way).
CTI Encryption is a portable application and works on both 32-bit and 64-bit versions of Windows XP, Windows Vista,Windows 7 and Windows 8.