How To Manage Your Startup Programs Easily, An Easy Way To Increase System Performance
The best way to start your computer faster and improve the overall system performance is to reduce the number of programs that load when Windows start. Reducing the number of startup programs can help you in loading the Windows faster, saving RAM, and faster loading performance. Many people will be familiar with the way that requires installing and running Windows Defender, going to Tools > Software Explorer and from category selecting Startup Programs. This method works for many people but is not very effective.
Many people do not have Windows Defender and many don't want to install it either. Well you don't even need too. Follow these basic steps for managing the startup programs.
For Windows XP: Click Start and then Run, in the dialog box type msconfig and click OK.
For Windows Vista: Click Start and in the search bar type Run and in the dialog box type msconfig and click OK. The quickest way is to simply type msconfig in the search bar and press Enter.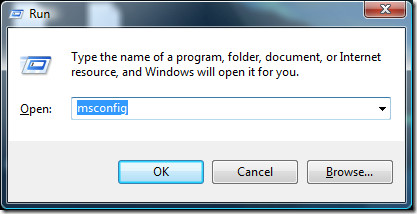 Now in the System Configuration click on the Startup tab and you will see the list of startup programs as shown below.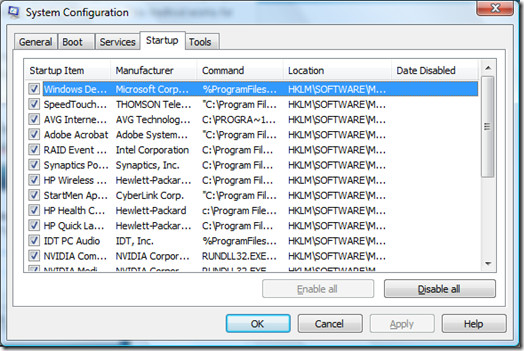 You can uncheck any program that you feel you don't need on Startup. These programs that are listed here are installed on your computer and remain installed. So do not worry, even clicking Disable all button will not screw up your computer. It does not remove the program but only disables it from loading on Startup.
After unchecking the programs that you don't need, click OK. Now it will ask you for the computer to be restarted. Restart your computer and you will see your speed while logging in to be faster than before.