How To Perform Benchmark Test On Your Hard Disk, USB Drive, And CD/DVD Rom
Have you ever wondered why your transfer speed is so slow when copying the files from an external hard disk, USB, or CD/DVD Drive? There could be a possibility that it is not working properly, recently, my old USB was given problems while reading and writing files. The best way to determine would be to perform a benchmark test. Another reason to perform a benchmark test would be to check whether the device you bought actually works like the way your manufacturer calm. I have found two tools that would help, HD Speed and HD Tune.
HD Speed
HD Speed is a free portable tool for Windows that can perform a quick benchmark test on any drive and is only 73Kb in size. Just select the drive from the list and hit Start.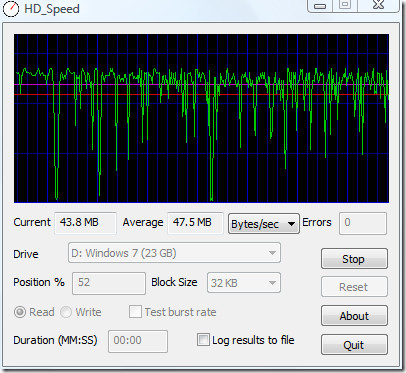 By default it will benchmark the Read performance, but you can also select the performance of writing to the disk too. You can also test the burst rate and select the duration you want to run it. All results can be saved in a log file.
HD Tune
HD Tune is free tool for Windows that lets you perform a quick benchmark test of your hard disk or external drives. Unlike HD Speed, this tool does not allow you to perform a test on individual local drives, rather you can perform it on a whole drive. Two version of this app are available, free and pro. The free version only allow you to test the benchmark of Reading data only.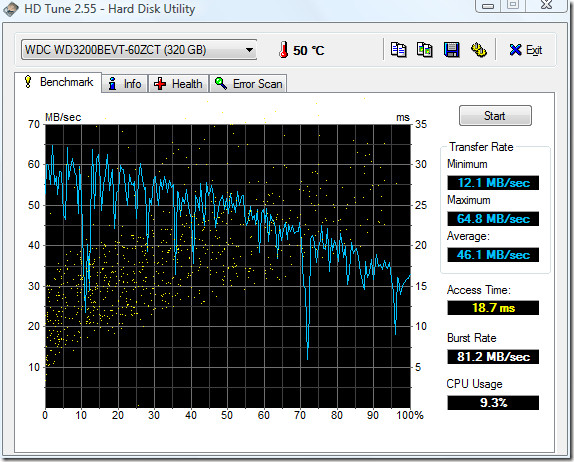 You can also perform an Error Scan on your hard disk or external drive, which can certainly be helpful.
Conclusion
If you are looking for an app to benchmark individual drives and/or CD/DVD Roms, then HD Speed is a clear winner, but if you are looking to find more detailed information about your hard disk or an external drive(Read only), then HD Tune would be more suitable to your needs. Below I have made a table with functionalities to give a more clear picture.
| | | |
| --- | --- | --- |
| Product | HD Speed | HD Tune (Free version) |
| Benchmark(Read) | Yes | Yes |
| Benchmark(Write) | Yes | No |
| Burst Rate | Yes | Yes |
| CPU Usage | No | Yes |
| Error Scan | No | Yes |
| Select Local Drives | Yes | No |
| CD/DVD Rom Benchmark | Yes | No |
| Log Results To File | Yes | No |
HD Speed works on all versions of Windows, while HD Tune works on Windows 2000 and later. Enjoy!