How To Remove Obsolete Or Unwanted Items From Windows Registry
Sometimes when you uninstall a program and the uninstaller turns out be be corrupt, you have to manually remove the program from your computer by deleting the folders and shortcuts. But how will you remove registry items? Some of these registry items are left due to program errors, misapplied registry hacks, etc. Problems also arise when users transfer or delete programs without realizing that many registry entries are aiming to the old location. When such unwanted registry keys are left untouched, it can directly effect your computer's stability and performance.
There are many registry cleaners out there like CCCleaner, etc, but one tool has recently garnered my attention. Little Registry Cleaner is a free opensource utility for cleaning obsolete or unwanted items from Windows Registry.
Just run the tool and click Scan Registry, it found 288 problems in my registry in just 7.6 seconds.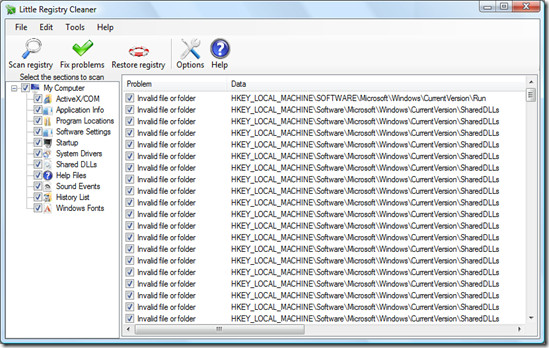 To delete these registries click Fix problems button, and don't worry since it make the backup of these files automatically, in case something goes wrong, simply click Restore Registry button and everything will be back to normal. There are three advantages of this utility: it is easily understandable by an average user, you can instantly select which section of the registry you want to scan, and there is a portable version available which you can carry on any USB drive. Enjoy!