How To Show/Hide Taskbar On Multiple Displays In Windows 10
The current state of Windows 10 is such that you have two different apps to manage settings; the Control Panel desktop app and the Settings app. Judging by the preview builds that Microsoft has been releasing in preparation for the Anniversary Update, the Control Panel is likely going to be phased out with more and more settings accessible from the Settings app. One new setting to have shown up in the Settings app is a dedicated panel for managing the Taskbar. Windows 10 has possibly the best multiple display support of all its predecessors and as of Preview Build 14332, you can now choose whether or not to show/hide the taskbar on multiple displays, and whether or not you want to show/hide app icons on the taskbar on a second screen from the Settings app.
Connect at least one other display to your system and open the Settings app. Go to the Personalization group of settings and click the Taskbar tab at the very bottom. Scroll down to the Multiple Displays section where you have a switch to show the taskbar on all displays. Turn it off and the taskbar will only appear on your main display.
Assuming you decided to leave the above option On and the taskbar is showing up on all connected displays, you will have the option to show taskbar buttons for open apps on all displays, show taskbar buttons for apps open on a particular display, or hide them altogether. To do so, open the 'Show taskbar buttons on' dropdown in the Multiple Displays section and choose one of the three options listed.
The 'All taskbars' option will show taskbar buttons for open and pinned apps on all your displays. The 'Main taskbar and taskbar where window is open' will show taskbar buttons on your main display. On other displays, you will only see buttons for apps that are open on it. The third option 'taskbar where window is open' will show buttons on a display that has an open app window.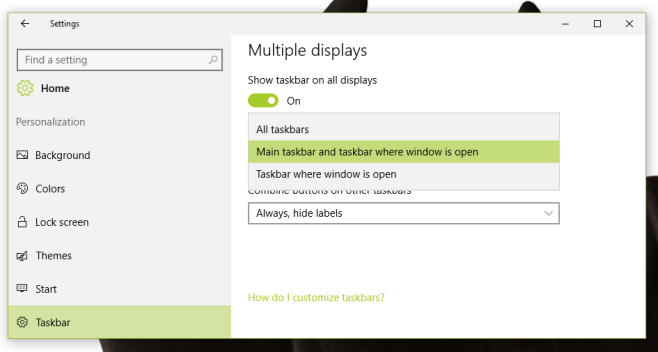 There still isn't support for getting the system tray to show up on multiple displays but perhaps it will be added in subsequent preview builds.