How To Stream From VLC Player To Chromecast
Since February of 2015, VLC has promised to add support for Chromecast but the feature has yet to be implemented. The stable version of VLC still doesn't support casting to the Chromecast but support for it has been spotted in the nightly builds of  VLC 3.0. The release date for a stable build of version 3.0 hasn't been given yet and for all we know it might not drop until the end of this year (or even early next year) but VLC is indeed adding support for the Chromecast just as it promised. If you aren't too bothered with bugs, you can download the nightly build yourself and use it to cast to your Chromecast. Fair warning: it's very buggy.
Install VLC 3.0 nightly build from the links at the end of the post. We've linked to both the 32-bit and 64-bit versions. These builds are only available for Windows so macOS users are going to have to wait longer.
Make sure you're Chromecast is running properly and that your Windows desktop and the Chromecast are on the same network. Open a media file, preferably an MP4 or MKV file and not an AVI file which the app isn't playing nice with at all at present. Right-click inside the playback frame and select Tools>Render Output from the context menu. Alternatively, just hit Ctrl+Shift+R.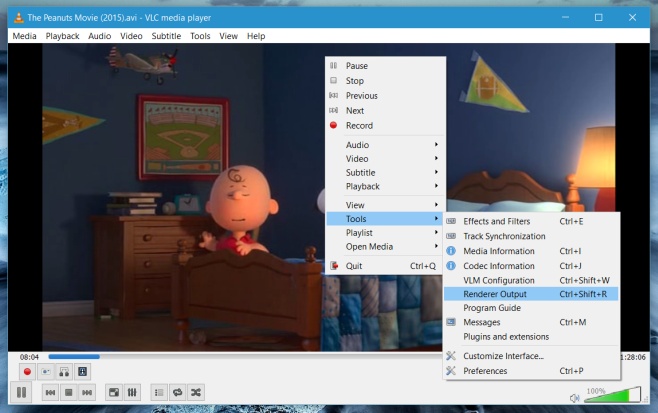 This will open the Render Options window and your Chromecast will be duly listed here. Select it and click 'Ok'.
VLC 3.0 is buggy and the team is hard at work fixing bugs so while it's entirely possible you never manage to cast to your Chromecast with the current build, you might be able to do so with future nightly builds. We had to make numerous attempts ourselves to get it to cast to the device in question.
VLC adding support for Chromecast is huge not only because the app is one of the most popular media players today but also because it plays just about every media format there is which means a lot to Chromecast users who often have to find an app that can convert a file into a playable format for the Chromecast.
Download VLC 3.0 32-bit Nightly Build
Download VLC 3.0 64-bit Nightly Build