Internet Explorer 10 Now Available For Windows 7; Here's What's New
When Windows 8 was first revealed, the general feelings of most people towards the new Modern UI were that of apprehension. The new interface was the focal point for most people discussing Windows 8, but it had something else worth noting as well: Internet Explorer 10. At that time, the latest version of Microsoft's browser was available for Windows 8 only, but Microsoft made it available for Windows 7 and Windows Server 2008 in form of a release preview in November and today, the stable version of IE 10 has finally been released for Windows 7 SP1 as well as Windows Server 2008 R2 SP1. Internet Explorer has declined significantly in popularity, but this latest version comes with features that put it back in line against the likes of Chrome and Firefox. The release does not have all of the features are available in the Windows 8 variant of the browser (like Flip forward), but here are some of the salient new features of IE 10 that might make you want to give it another shot on Windows 7.

Do Not Track
Much to the dismay of advertisers, Internet Explorer 10 has a Do Not Track feature (also available in Firefox). It is enabled by defauylt, but you can disable it if you want from Internet Options > Advanced under the Security options.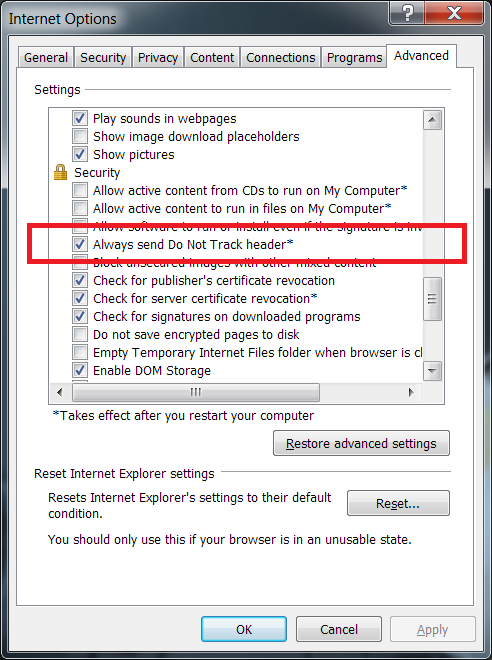 Spell Check & Auto Correct
Internet Explorer 10 has spell check. While other browsers like Chrome also come with the spell check feature, if you've used MS Word, you would know that no one does spelling and grammar check quite as well as Microsoft. The same feature is available in IE 10, and it works just amazing. Internet Explorer 10 also has auto-correct – something that both Chrome and Firefox lack. Spell check is available for 95 languages and it's likely to become a very formidable feature for other browsers to compete with. Spell check can be disabled from the add-on manager. You can add or change dictionaries from the right-click context menu for misspelled words, or from the add-on manager.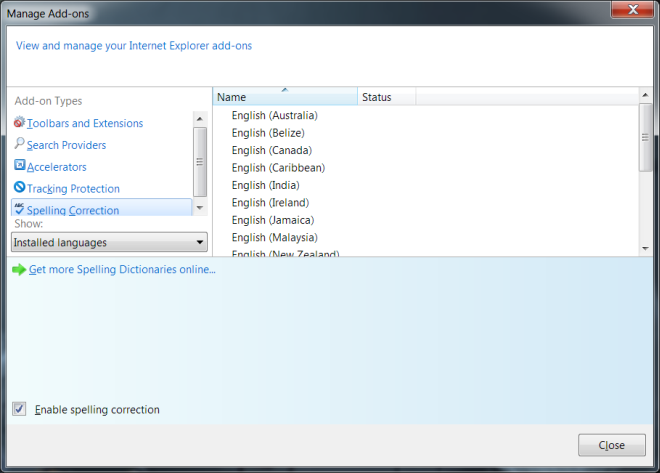 Better HTML 5 Support, Sandbox Technology
Web developers are gonna love this one. Most websites are increasingly using HTML 5 technology and up to version 9, Internet Explorer has been notorious compared to other browsers when it comes to HTML5 support. Not only does the new version support HTML 5 better than all previous version, but it also features sandboxing support for HTML5 webapps.
Pointer Events
Internet Explorer 10 supports pointer events; it will allow websites to detect and respond to touch gestures. This feature is obviously more useful on Windows 8 that has shipped on several touch screen devices, but it's a step in the right direction for the browser overall.
Apart from these features, Microsoft claims the new version to be much fasterer than its predecessor. You won't be able to upgrade Internet Explorer 9 to the next version automatically, and will have to download and install it yourself. The installation process is somewhat tedious and you will be asked to restart your computer but if you were ever going to give this browser another chance, Internet Explorer 10 is the version to try.