Just Manager: Clutter-Free Dual-Pane File Explorer With An FTP Client
There are several third-party file managers out there that provide an easy way for accessing files by simultaneously displaying two different directories side by side. When talking about such (dual-pane) file managers, you might say that Total Commander is the true king of the throne, but there are also some other (simpler) alternatives that give you the same facility in a rather clutter-free environment. One such tool that we have come across is Just Manager, which provides a simple double-panel interface to manage your files and folders, and enables you to access basic Windows utilities directly from its toolbar including CMD, Run command console and Map Network drive. It also comes with a built-in FTP client, which lets you quickly connect to any FTP server by inputting server Name, Host, Port, Username, Password and Remote directory path. More details just after the break.
The application window contains a menu bar, a toolbar and a quick access bar at the bottom, where the latter lets you perform a few basic file tasks such as Copy, Move, Create folder and Delete. However, you can also access these functions using hotkeys. From underneath the toolbar, you can select any local and removable drive as well as access the computers on your LAN by clicking the Net button. The application provides two-paned interface, letting you easily manage files and folders from two different locations. This feature is quite helpful for people who need to continuously navigate between different folders to move or copy files to various locations of the drive. The application makes this job easier by supporting drag & drop behavior. It allows you to explore any location in a separate tab. There is absolutely no limit on how many tabs you can create, so it's quite convenient to have multiple folders opened at the same time within a single tool.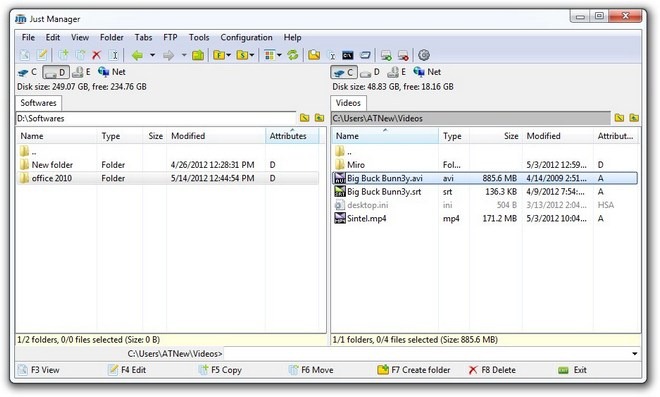 Clicking the Settings button on the toolbar opens the configuration console, where you can tweak various application specific options in General, View, Fonts and colors, Main menu, Tabs, Panels, File operations, Quick search (filter), Command line, View/Edit, FTP and Shortcuts sections.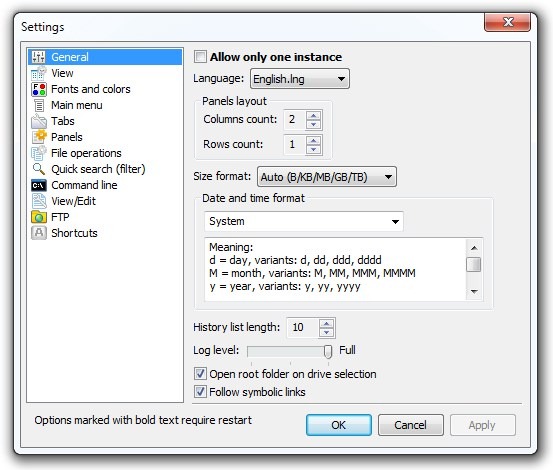 Just Manager is easily one of the best file explorers available for Windows. It provides an intuitive workspace to quickly move, copy, and rename files from folder to folder. Furthermore it provides quick access to frequently used utilities. It works on Windows XP, Windows Vista, Windows 7 and Windows 8. Testing was carried-out on Windows 7 64-bit OS edition. If you liked this tool, you can also check some other file explorers that we've covered so far.