Lion UX Pack Transforms Windows 7 To Mac OS X Lion User Interface
Those of you who have been regularly following AddictiveTips, would know that we have covered a number of elegant skin packs for our readers in the past, including the Android , Windows Phone 7 Mango, iOS, Windows 8 and the Ubuntu Skin Pack. Most of these skin packs were developed by Hamed, and required following a simple setup wizard for getting the job done, instead of going through any complex theme patching methods. Recently, we cam across a Mac OS X Lion skin pack that was even easier to install than the previously reviewed Lion Skin Pack. The Lion UX Pack has been designed to instantly transform your Windows 7 system into a Mac OS X Lion style desktop.
You can simply install the Lion UX Pack by launching the setup file, selecting the system font, dock configuration (enabled, disabled or auto-hide), and selecting other OS X UI elements that you want, including the start orb,  caption button, expose feature and spaces. Click Install to transform your Windows 7 desktop.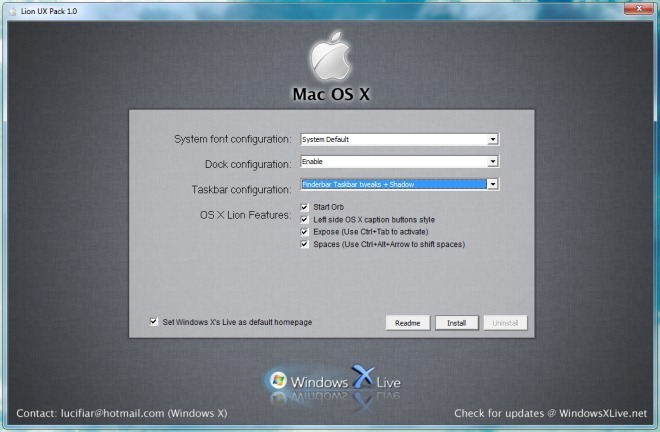 The Lion UX Pack, surprisingly, does not provide any installation wizard or system reboot, and transforms the desktop immediately after you click Install.
Note: Please bear in mind that such transformation packs are difficult to uninstall, and often, a system restore point will not revert the changes. Before installing the Lion UX Pack , make sure that you backup your computer to revert the changes (if required). Moreover, make sure that UAC (User Account Control) is disabled.
The below screenshot displays the Mac OS X Lion style UI changes that you will get for your Windows 7 desktop.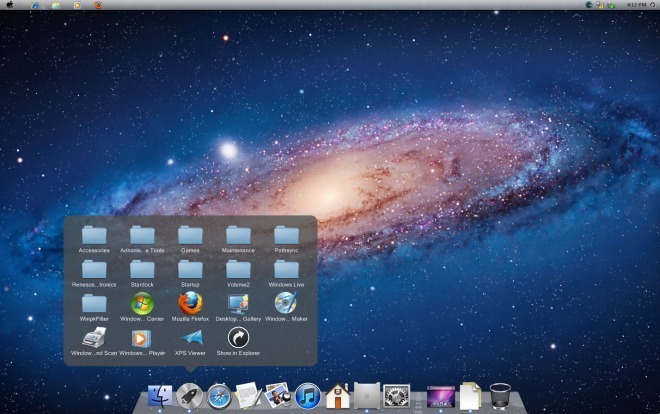 After installation of this transformation pack, we experienced some internet connectivity issues. It cannot be determined if this was a problem specific to a specific kind of network adapter/system, or is a skin pack bug. For this reason, do follow the instructions mentioned in the disclaimer above, before proceeding with the skin pack installation. The skin pack is also ad-supported, as it offers to change the homepage for the web browsers installed on the system. Lion UX Pack  works on Windows 7 only.