BLDU v1.2 Can Now Lock All Bitlocker Unlocked Drives In Windows 7
Back in August, we released Bitlocker Drives Unlocker to unlock all BitLocker drives without having to unlock them one by one manually. Today, we are releasing version 1.2 of BitLocker Drives Unlocker, also called BLDU. Apart from some under the hood changes and code improvement, it includes two drive locking options; Lock and Lock All. Now you can lock all of your BitLocker drives which have been unlocked, without going through the hassle of locking them one by one using manage-bde lock command in Windows Command Prompt.
You will find the Lock options at the bottom of the main interface. Clicking Lock All will lock all unlocked drives in one go.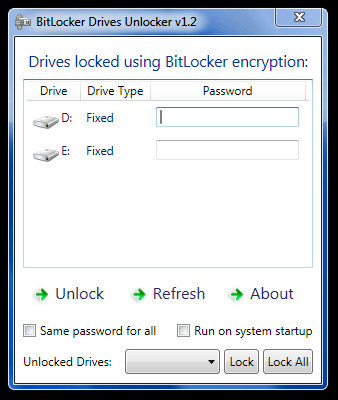 However, if you want to selectively lock the drives, just pick the drive from Unlocked Drives drop-down list and then click Lock to lock the drive. You can lock other unlocked drives in similar fashion.

When the drive is locked, it will appear in the list ready to be unlocked again.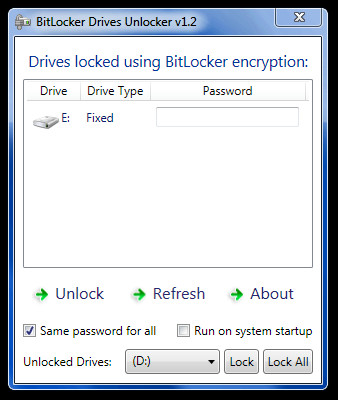 BitLocker Drives Unlocker supports both 32-bit and 64-bit editions of Windows 7.
Download BitLocker Drives Unlocker