Lock Folders And Disable USB Port For Flash Drive With BuduLock
Data security is a big concern if you use a shared or public computer. Putting password and locking folders containing important data is a solution. Though there are enormous tools which provide such facility, yet we can't stop reviewing some new tool which we come across.  BuduLock is a simple tool which enables you to lock  folders smartly. It also lets you disable USB port for flash drive to prevent access.
It is a small application which secures your folder contents by locking the folder with password. Interface is quite simple, locate  folder, hit on Lock and specify password of your choice. Once you lock a folder, a lock is displayed instead of default folder icon stating that folder is locked.
Unlocking the folder is equally simple, locate your folder, and click on Unlock. It'll prompt for password, enter password, click OK, and your folder will be unlocked.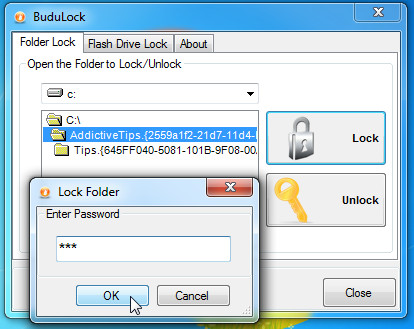 From Flash Drive Lock tab you can specify if you want to enable or disable the flash drive. To disable the USB port, select Disable Flash Drive and hit Execute. Please note that the UAC (User Account Control) must be disabled to use this functionality.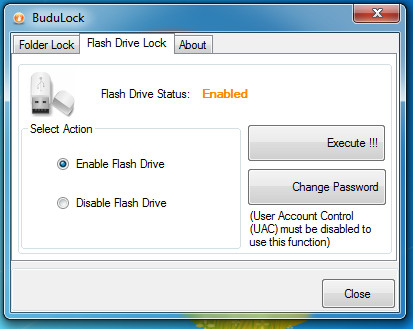 It works on both Windows Vista and Windows 7. Testing was done on system running Windows 7 32-bit OS.
For more, also check out Cryptor and Penyulocker.