Magix Photo Designer 7: Powerful Image Editor With Slew Of Handy Features
Adobe Photoshop is like the lord of all image editors, but people usually get intimidated by its broad array of features, fierce learning curve and, of course, a hefty price tag – all at the same time. When it comes to image editing (and that your projects are not on commercial or professional scale), you usually lean towards freeware solutions. For instance, you want to fine tune your images before uploading them on Facebook or you aren't satisfied with your spouse's shaky clicks. We have covered a wide spectrum of photo editors for all major desktop and mobile platforms. Magix Photo Designer 7 for Windows is another handsome entry. Don't doubt it as just a mere Paint utility replacement; the program has a lot up its sleeves. Not only does it give you all the basic photo editing tools, but also comes with various advanced features, such as a number of photo effects, artistic filters, image optimization options, a panorama montage creator and a lot more.
Hate bloatware that automatically gets installed with your downloads? So do I. Don't forget to uncheck Installation for Bekko Toolbar and Ask Toolbar during installation process of the application.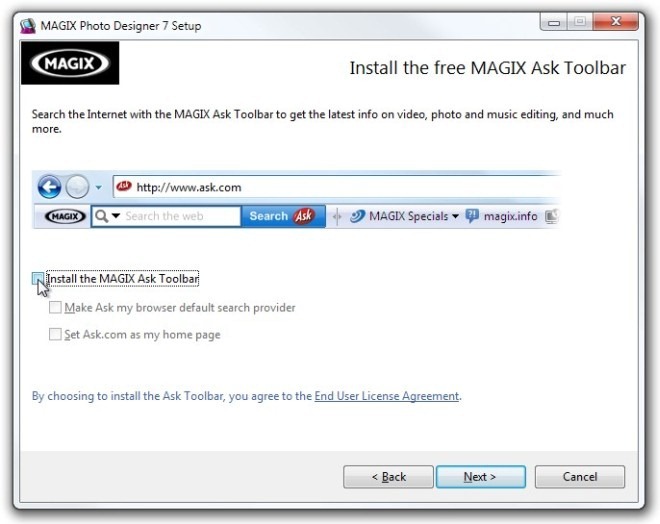 Magix Photo Designer is a completely free and fully-featured application, but you'd need to get your copy of the software registered and activated, before usage. Upon launch, click Register the program link to the left and complete the quick sign up process. The developers will email you your activation code, so simply paste that into the application and click Continue to use this program to begin.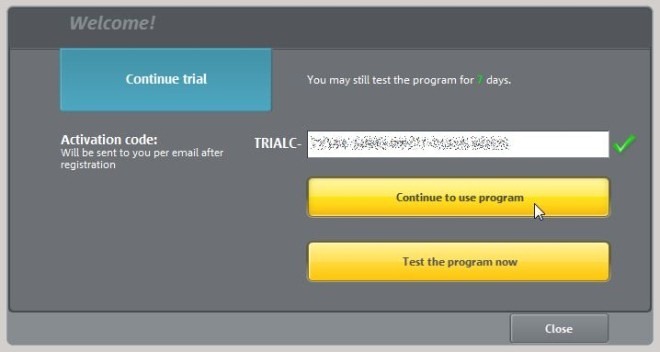 The interface of the application looks immaculate, with neat placement of toolbar and menus. There is also a 1-Click option at the top that automatically corrects Exposure, Color level and White balance of the selected image; however, I didn't find it of any major use. Contrary to that, a rather excellent feature of Photo Designer 7 is its ability to let you work with multiple photos in conjunction. Added photos can be quickly selected via their respective thumbnail previews at the bottom. The tools palette to the left provides most of the Photoshop-like options such as Crop, Red Eye Removal, Sharpen, Brightner, Clone, Color fill, Brush, Pen etc.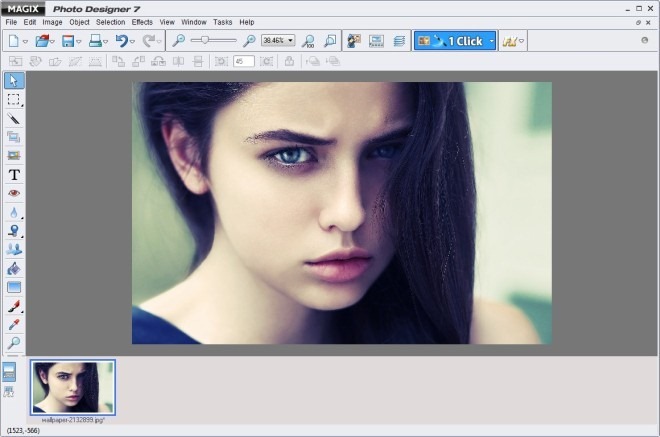 Clicking the miniscule FX button to the bottom left of the window provides many photo effect and filter presets at the bottom, like Chromatic Aberration, Dye, Gamma Correction, Negative, Poster, RGB, Share curve, Hue/Saturation/Brightness, Pencil Sketch, Leather, Canvas, Modern Art, Mosaic, Pastel, and so on. Some of the effects provide additional settings to meticulously fine-tune the selected image file, for example, transparency of the filter, Size, Direction, Density etc. Some of the effects however take a bit longer to process.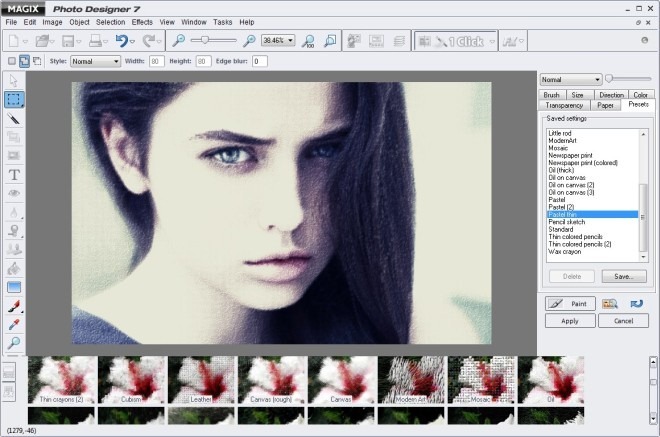 I really adore the Liquify filter in Photoshop and I was glad to see a feature like that also present in Magix Photo Designer 7. Click FX button on the toolbar and then select Liquid Color from the drop down menu. This is a magnificent tool that helps in making your portraits look leaner, with sharp jaw lines and defined facial features. The Settings pane to the left contains various options to liquify your images, which includes Draw, Dent, Grow, Bump, Shrink, Wave and so forth. You can also specify brush size and its strength before applying the effect.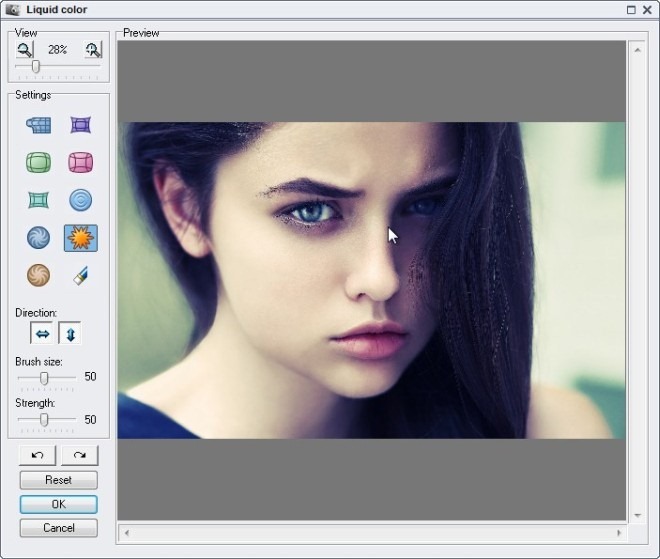 Another feature that caught my attention is Panorama Montage creator. From Tasks menu, click Detailed image editing > Create panorama picture. It lets you add a slew of different images side by side, to create a panorama. For testing I tried throwing in two identical images and the output image looked simply great. It lets you adjust both the horizontal and vertical overlapping of the images according to your preferences. The Tasks menu provides many other options which can give your images a new life. Such as Isolate people/objects, light up darker images with Brighten areas, Remove scratches and stains from old photos, Design picture title and remove unwanted objects from your images.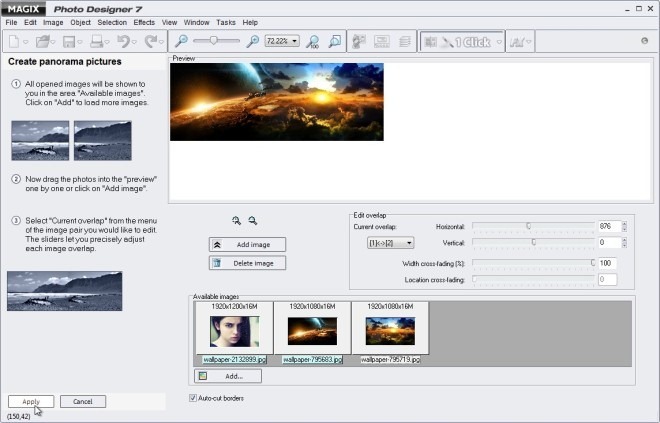 If I had to sum up Magix Photo Designer 7 in one word, I'd have used the term brilliant. It's a free tool that provides many options commonly found on paid software. I might have skipped many additional features during testing, so don't forget to highlight them in your comments. It works on Windows XP, Windows Vista, Windows 7 and Windows 8.
Download Magix Photo Designer 7