Manage Windows 7 Power Options From System Tray With Power Scheme Switcher
Power Scheme Switcher allows quick management of the power scheme options of Windows 7 from the system tray. It is similar to previously reviewed Power Plan Assistant, but provides more than verbose power management options.
With the help of this application, users can quickly change the power plan from the system tray within a simplified user interface. Other than configuring verbose options, such as, allowing the computer to run in Power Saver, High Performance and Balanced mode, it can also be configured to automatically switch to a customized power plan.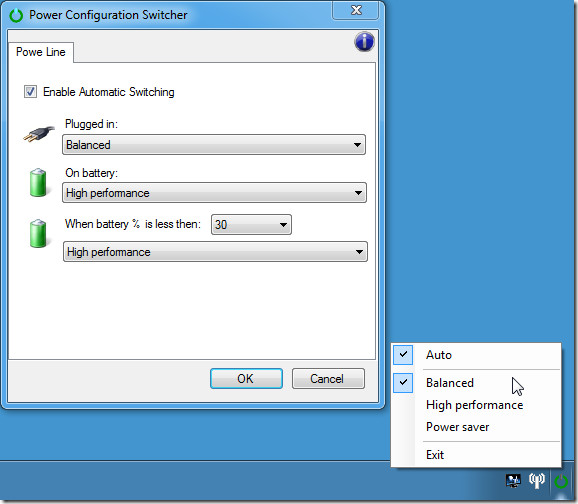 Customized power management configuration can be particularly useful for laptops by managing the amount of power they consume when plugged in, when functioning on batteries and after they have consumed a certain level of battery power. Although Windows 7 does provide these power management options, however, with the help of this application such management can be quickly and efficiently done via the system tray. This freeware was tested on Windows 7 64-bit OS.
Download Power Scheme Switcher