Monitor Network Shared Files
Windows 7 makes it easier to share files over network. All you need to do is to move the files over to the Public folder and it will be shared with everyone connected over the network, but how would you know which user has accessed your shared files and when?
SharedMonitor is a portable little application which instantly starts monitoring the Public folder on launch. It displays the date/time of the file or folder that was opened, the date it was closed, the duration it was opened for, the username of the person who opened it, the OS used, the Open Mode, and the exact directory/file that was opened. All information is displayed in one simple-to-understand window.
The minimalist user interface allows you to quickly stop the monitoring and set the check interval, clear the log, or save it in .CSV or .XML format.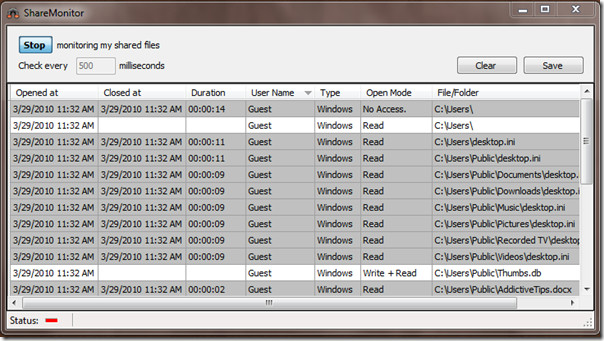 Being a portable network monitoring tool, it works on all versions of Windows, we tested it on Windows 7 32-bit.