Open Doc, Docx, RTF, HTML, And Txt Documents With Word Reader
Word Reader is an alternative to Microsoft Word 2003/2007, that can open documents of various formats. You can not edit the document, but only read it. If you are an impatient person and cannot wait for Microsoft Office to load up a simple document, then this tool does the trick. It opens the document 10 times faster than Office 2007.
The case here is almost similar to that of Adobe Reader, which has many 3rd party alternatives such as Foxit Reader, PDF XChange Reader, Free PDF Reader, and many others.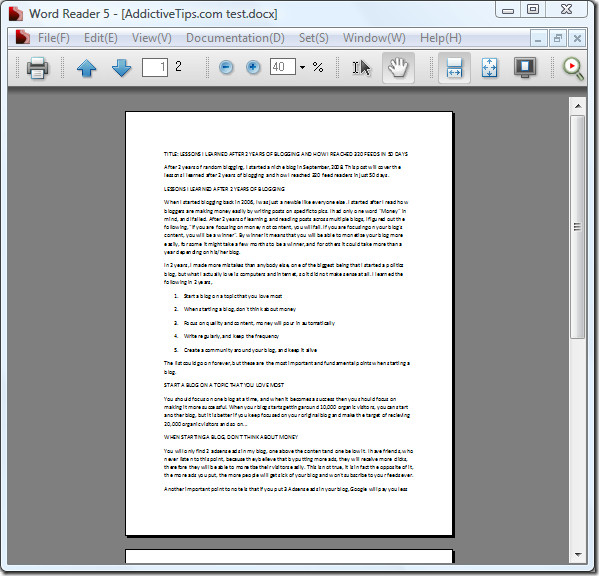 The look of this app is almost similar to that of Abobe Reader. Basic functionalities such as, zoom, move, text selection, enlarge, print, etc are all there. The complete list of formats you can read are Microsoft Word 2007 (.Docx), Microsoft Word 97-2003(.Doc), Hyper Text Markup Language (.Htm, .Html), Plain Text Format (.Txt), and Rich Text Format (.Rtf). It works on Windows XP, Windows Vista, and Windows 7. Enjoy!