Organize, Extract, Shorten And Share Links Using FCorp Link Manager
FCorp Link Manager is a powerful application that allows you to organize URLs in accordance with customized categories, search them instantly, synchronize and extract links from HTML files or the clipboard. With features like adding links to Explorer Favorites, Convert to PDF, Translate & Search using Google and the option to bookmark and share links using 342 built in social media websites with a single click, this software promises to assist you in extracting and sharing a wide range of useful links. In addition, features like Link Encoder & Decoder, export to the browser and URL Shortener (supporting 10 popular URL shortener websites) lets you perform a number of link-specific operations from a single platform.
Once the application is installed, a dialog box will automatically appear upon execution of the program, asking you to donate for the development of FCorp Software. The application interface is well-organized into tabs, accessible through user-friendly buttons on the left sidebar, partitioning Link Manager, Searcher, Extractor and Synchronizer. The Link Manager allows you to define categories according to your priority on the basis of which links can be added. The category-specific list presents information in a column format with the Link Name and URL in focus. Once you've added links to categories, you can perform a wide range of functions using the Link List buttons at the top of the access list. You can go directly to the selected webpage or copy, cut or remove links from the manager as well as move to and from multiple categories. Moreover, the entire webpage can be saved as PDF using the respective button, while translation and searching through Google can also be initiated, instantly. You can export list to Google Chrome and Mozilla Firefox Bookmark folder using Export to option.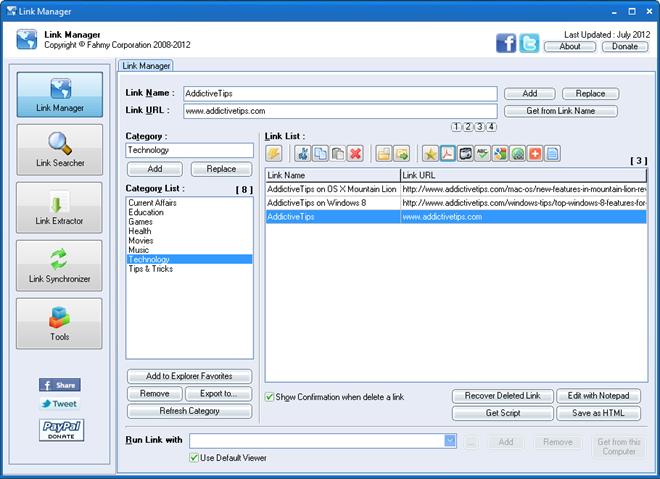 The Link Searcher allows you to search for the relevant keyword from the manager while displaying results in a category-wise manner.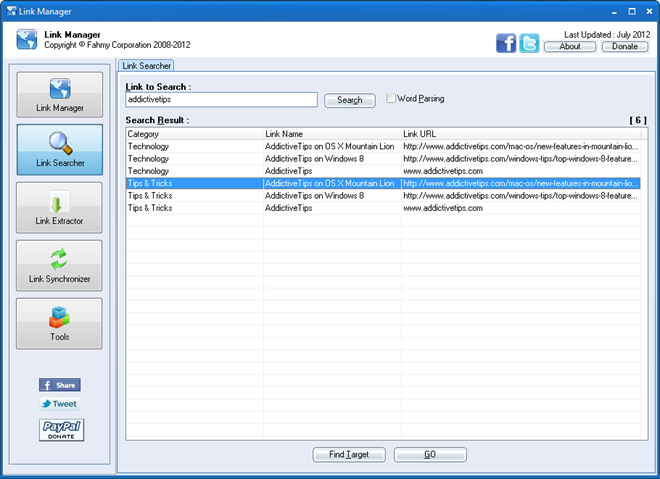 Upon specifying a webpage, saved in the form of an HTML file, the Link Extractor quickly presents an extensive list of URLs embedded in the webpage. These results can be stored in a text file for documentation.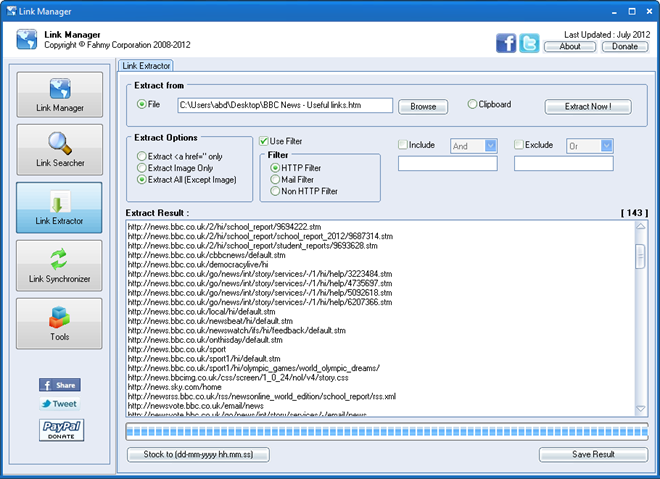 Another useful feature is the Link Encoder/Decoder and the Link Shortener. Rather than shortening lengthy URLs by going to relevant websites and getting the output, Link Manager Tools allow you to utilize 10 popular URL Shortener websites for good.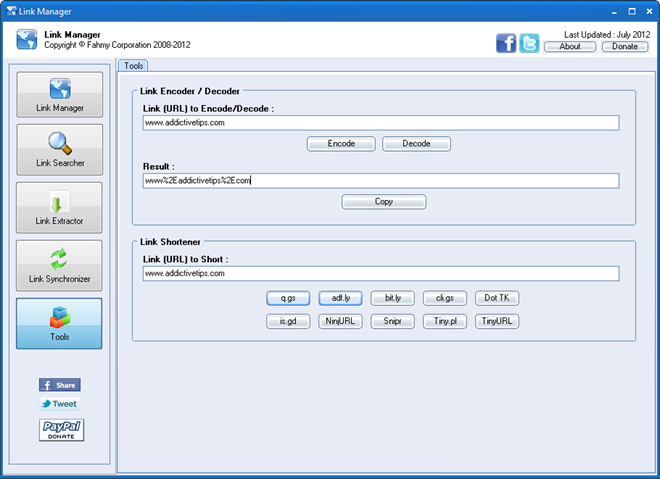 We tested this useful utility on Windows 7, 64-bit edition. It also supports Windows XP, Windows Vista, Windows 7 and Windows 8.