Plastiliq ImageResizer: Resize & Convert Images Using 7 Resizing Modes
Whenever you need to use an image in a project, the first thing that comes to mind is if it the selected image of the right size or not. Using the wrong image size will cause the whole project to look bad. For instance, if the image that you use is bigger in size than what the project requires, it might get distorted or even cut from one size and the complete image will not be displayed in the final version of the project. Some days ago, we covered an application by Plastiliq called Plastiliq PixelPicker, that allowed you to view color codes in 10 different formats, such as RGB, ARM, HTML, CMYK, HEX etc. Today, we have another application from the same developer, titled Plastiliq ImageResizer. As the name suggests, it is a simple image resizing application with a beautiful GUI, which allows you resize the height and width of your images, as well as change their output format just with a few clicks. Adding files and folders is just a matter of dragging and dropping them onto the main interface. Moreover, it can also convert files to different formats, and currently supports JPG, PNG, TIF and BMP output formats. More on Plastiliq ImageResizer after the break.
The application has 7 different resizing modes and allows you to resize the image using modes including Width & Height (to separately adjust height and width of images), Width (to adjust the width of image while retaining the original proportion), Height (to adjust the height of image while retaining the original proportion), Fit (Keep proportions), Percentage (to increase or decrease the percentage of image size), Desktop (to change image size according to desktop resolution) and Desktop (Keep proportions).
To resize and convert images, drag individual images or complete folders over the main interface to add them to the application. Once added, click the Play button available at the top to start the resizing process.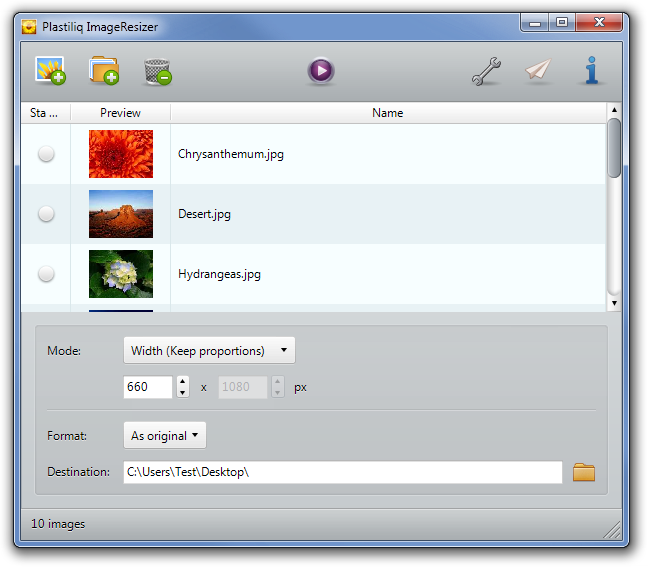 The Options button available at the top-right lets you configure options related to Language, Use Subfolder, Date/Time Attributes, JPEG Format Quality etc.
Plastiliq ImageResizer has a memory foot print of around 19 MB and works on both 32-bit and 64-bit versions of Windows XP, Windows Vista and Windows 7.
Download Plastiliq ImageResizer