Quickly Block/Unblock Attachment File Types In Outlook 2010/2007
You might have noticed that Microsoft Outlook prevents certain file type attachments from opening so that your computer remains  safe. However, sometimes you need to be able to handle these attachments(for example Word or Excel files). Instead of playing with the complex settings, try the Outlook Attachment Enabler which can enable/disable any attachment file types.
In order to see the list of the blocked extensions, launch the tool and check the Display Blocked Extensions check box. It will list all those extensions which are blocked by Outlook.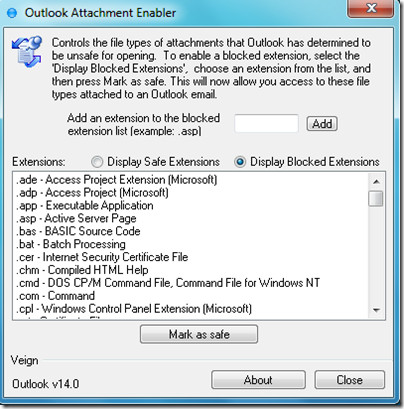 Now in order to enable any particular extension type, select it and click the Mark as safe button.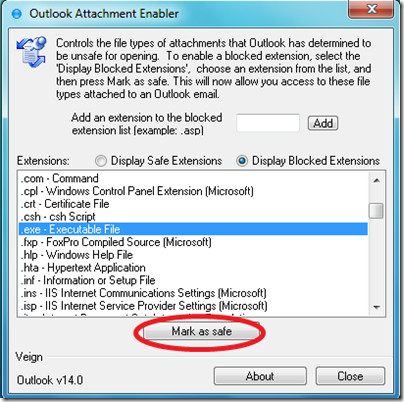 Now check the Display Safe Extensions button and you will be able to see it, listed in the list of safe(allowed) extensions.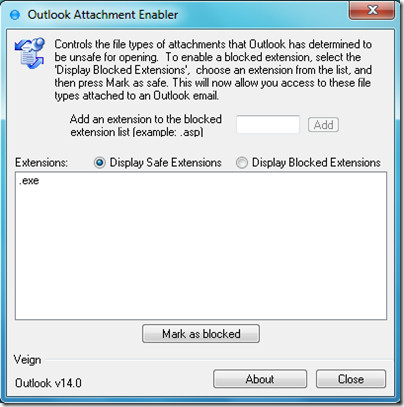 You can also add some extension to the blocked and safe list by specifying it and hitting the Add button.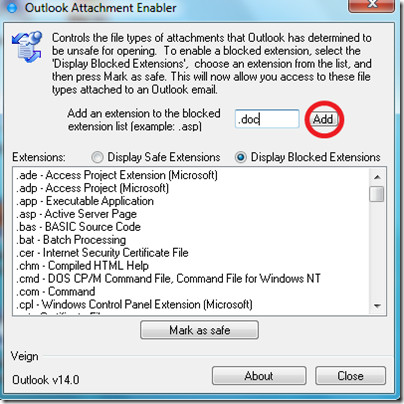 Download Outlook Attachment Enabler
It works perfectly on Windows 98, Windows 2000, Windows XP, Windows Vista and Windows 7. Outlook 2000 and all newer versions are supported. We were able to test it successfully on Outlook 2010 as well.