RawTherapee: A Feature-Laden Image Processing Powerhouse
Should you be looking for a powerful and high-end image processing software, try RawTherapee. This open source tool is designed to give you a plethora of options to fine-tune your RAW image files. EXIF data extraction absolutely works like a charm, and supports a wide array of DSLR cameras. The application also features a number of demosaicing algorithms, which includes AMaZE, DDB, AHD, fast, EAHD, VNG4 and HPHD. Thanks to its advance tools, it provides various image processing options, such as controlling image exposure, tone mapping, sharpening, denoising, de fringe, contrast & brightness adjustment and much more. It's a perfect image editing suite for both professionals and novice photographers, to quickly transform their RAW images into beautiful looking photos. What's more, the integrated batch processing facilitates you to transform a group of images in one go, by adding them to the Queue. Albeit the interface is quite conventional, the raw prowess of the tool is simply exceptional. It lets you work on different photo projects, simultaneously, by placing each session to separate tab. More on RawTherapee after the break.
The default theme of the application is comprised of dark grey color, though you can select other skins from Preferences console. It includes an integrated file browser – quite handy to quickly get hold of your photos. All your local directories are accessible from the left panel, while the thumbnail previews automatically appear when you select your image folder. Double clicking any image file opens it into its own tab. On the right side of the window are all the image processing tools, under Exposure, Detail, Color, Transform and RAW tabs.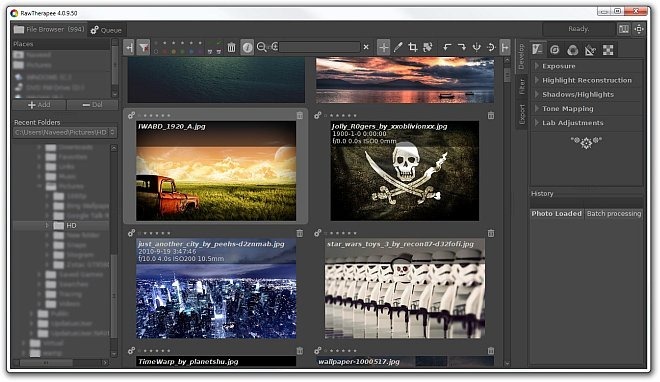 Each tab holds a fantastic set of different settings that you need to employ for your photos. For instance, Exposure tab lets you configure Exposure, Highlight Reconstruction, Shadows/Highlights, Tone Mapping and Lab Adjustments, where each of the settings contains further adjusters, down the road – such as Exposure Compensation, Highlight recovery amount, Black (level), Saturation, Tone Curve, Local Contrast, Shadows etc. Details tab allows you to apply Sharpening, Edges, Microcontrast, Noise reduction, Impulse Noise Reduction effects to your photos. Color tab also comes in handy to adjust White Balance, Vibrance and other parameters of your image files. If available, the application is also able to extract full meta-data information of the the photos.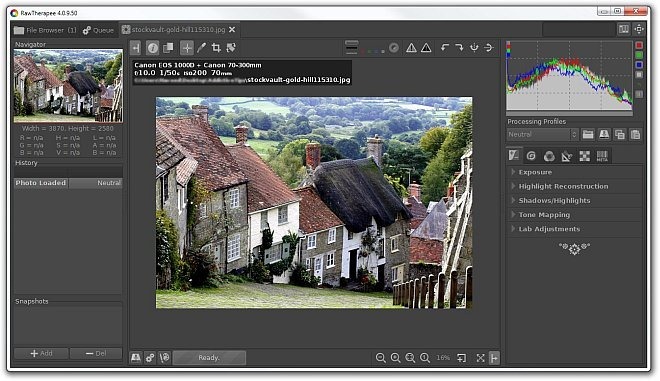 The histogram appearing at the top right edge is also helpful to perform accurate analysis of the image files, which shows complete RGB graphical information. The metadata information that the tool extracts is quite elaborate, letting you know of the camera make and model, photo orientation, compression, EXIF , BitsperSample, Date and time, and so on. It's good to see that you can crop and resize your photos from within the app, via the Transform tab.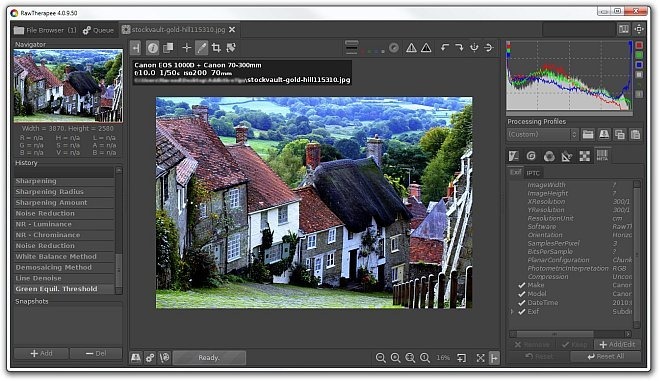 The dual pane view is handy enough to compare your RAW and processed image files side by side. It shows a before and after preview of the image file. Other than that, you can rotate, flip, zoom in/out your images, and hide certain tool palettes, shouldn't you need them.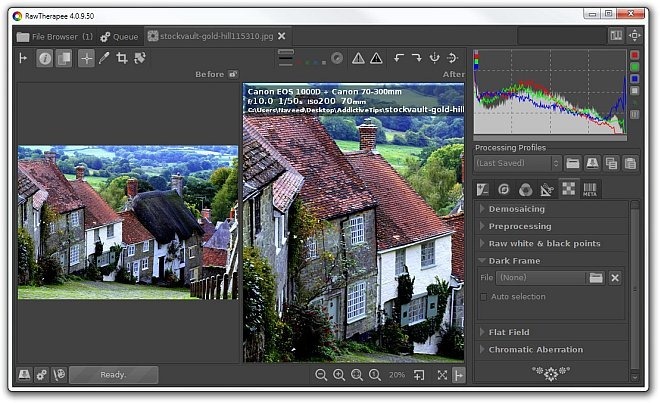 The Preferences console itself contains an umpteen number of configuration options. The settings are divided under General, Image Processing, File Browser, Color Management, Batch Processing and Sounds tabs. Another thing caught our attention, is that the you can also specify your external photo editor in the preferences window, so you can quickly open the images into your default photo editor, with a single click. Under File Browser tab, you may toggle various Parsed Extensions too.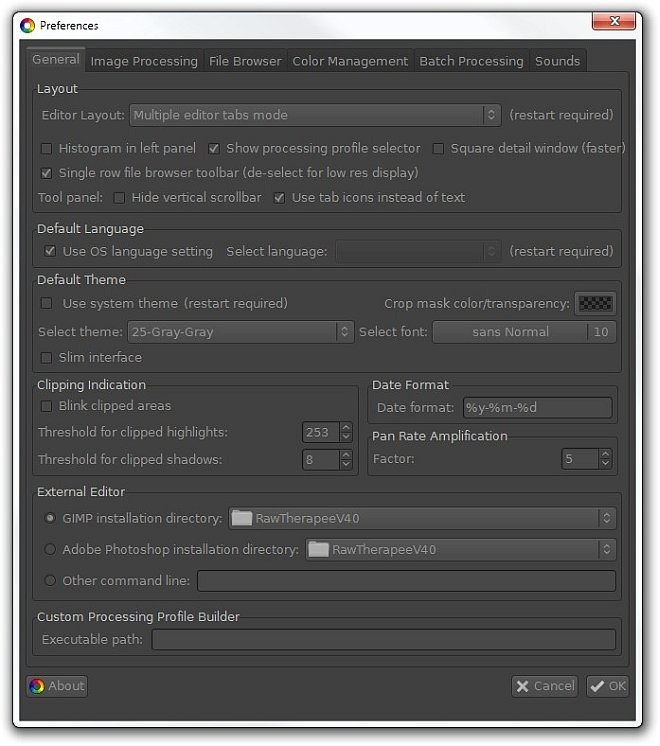 To sum up our review, we'd call RawTherapee an utterly robust tool. Its high-end and powerful features make it definitely worth a try. The exceptional image rendering, intuitive UI and batch processing, makes this tool a hard miss. It works on Windows, Mac OSX and Linux.