Recycle, Delete And Shred Files With Multi Trash Gadget [Windows 7]
Generally, there are three ways of getting rid of unwanted files and junk data. Of these, the two common options are to send the files to the Recycle Bin or use shift + del to remove them permanently. However, the task isn't completed at this point, and you still need to execute a third option of shredding the file so it cannot be restored via any means, such as, using Freeraser and Moo0 File Shredder. These file-removing options are commonly found in different software applications, but Multi Trash combines all three tasks to offer a combo file remover gadget that can recycle, delete and shred files at one platform.
Open single or multiple instances of the gadget. Use the left or right arrow to switch from Recycle Bin, Delete and Shred options. To remove a file, just drag&drop it into the application.

You can access the settings by clicking on Options from the sidebar. From Options, click on Function tab. If you want to be prompted before recycling, deleting or shredding, then just check the appropriate option. You can also adjust the size of recycle bin imaged interface when docked/undocked.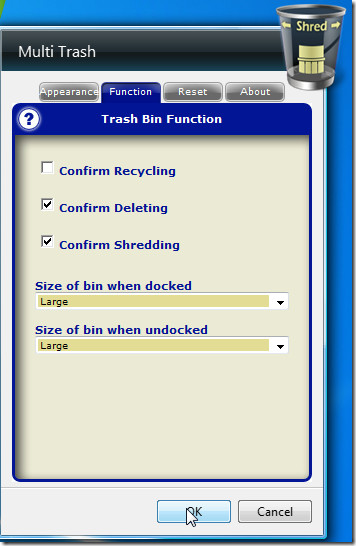 It supports Windows Vista and Windows 7, testing was carried out on Windows 7 x86 system.