Redirect Mouse Wheel Rotation's Control To The Pointer With Wheel Here
You know what is frustrating? When you want to use your Mouse Wheel rotations(up/down or left/right scrolling) in an application but it won't work because you first need to switch the target of the mouse wheel manually.
Wheel Here solves this problem. What it is does is quite simple, redirecting mouse wheel rotations control to where your pointer is. In this way when you move your pointer to any application, the mouse wheel rotations will work without having to switch the target manually. But this is not all, what is remarkable is that it has a build-in option to emulate scroll in need, which means that the scroll will even work in those applications that do not support mouse wheel. Isn't this awesome?
Since it is a portable app, all you need to do is to extract the zip archive and hit Mouse Wheel executable to run it instantly.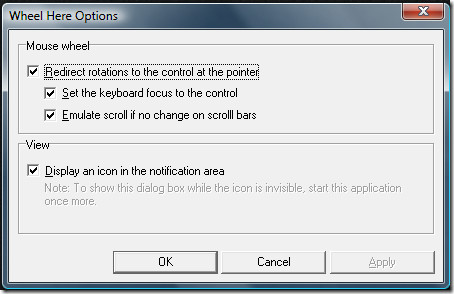 Did I forget to mention that you can also set keyboard focus to the pointer? The only last option left is to determine if you want an icon in the system tray or not. It is a great app that does solves a simple problem.
It works on all versions of Windows. Enjoy!