RegShot Now Supports 64-bit, Works With Windows 7
RegShot is a great portable tool that allow users to quickly backup and compare the changes in registry. If you don't know it already: it's the best alternative to making a quick (customizable) snapshot of you system's registry and files (can use file checksums), do some changes and then compare the differences. Gives nice undo/redo registry files, an HTML report of the changes and the option to save the snapshots. It helps users find which changes have been made to the registry by any software.
The original developers behind RegShot have for not updated their program for long. Since it is an opensource project, some Russian developers have made an extended version of it.
Quite recently they released the latest version which works with both Windows Vista and Windows 7. The biggest change is that now it finally has x64 version available too. Ofcourse you could run x86 version on x64 but it would then only check the "Wow6432Node" in the registry. Having a separate 64-bit version is a huge change and it will really benefit the masses since more and more people are now using Windows 7 64-bit OS.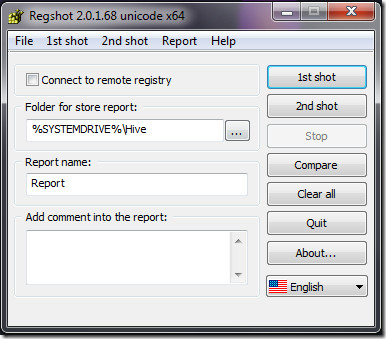 Remember that the download page is in Russian language and so is the app by default. You can change the language to English and then start using it.
Download Regshot (The first button on the lower left side to download)
It works on Windows XP, Windows Vista, and Windows 7. Both 32-bit and 64-bit versions are available inside the zip file. Enjoy!