Remove Blocked Files And It's Locking Processes From Windows
Last year, we reviewed an app called Unlocker that can unlock any locked file instantly. To unlock a file, it kills the Windows process that is trying to lock it. But not all files are locked by Windows processes, some files could be locked due to a malware. So if you are using Unlocker, you will only be able to kill the malware process, but cannot delete it. What will you do to delete the locking process(process created by malware) from the hard disk?
LockHunter is a free tool for Windows that is quite similar to Unlocker but with a twist. It integrates itself to the Windows Explorer right-click context menu, just right-click the locked file and select 'what is locking this file?' and it will show you the process that is locking the file.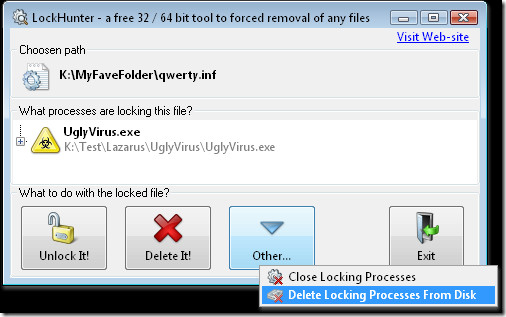 To unlock the file, click Unlock It, to delete the file click Delete It. If you want to delete the process that is locking the file, go to Other and then select it from the list as shown in the screenshot above. To kill the process, select Close Locking Processes.
Note: Make sure the process that you are deleting is a malware and not a Windows file. Deleting an important Windows file can result your operating system to become corrupt.
It works with Windows 2000, XP, 2003, and Vista. It comes in two versions, one for 32-bit and other for 64-bit operating systems. Enjoy!